BBC re-pilots panel show hosted by Miranda Hart
BBC re-pilots panel show hosted by Miranda Hart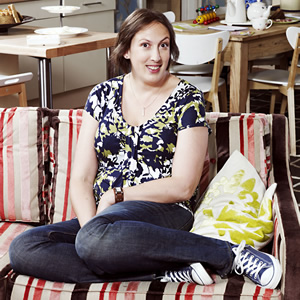 BBC One bosses have ordered a second pilot episode of a new show fronted by Miranda Hart.
And You Are...? is a panel show format in which all the questions are about a group of people who have nothing in common except their name.
The show was first due to be piloted in February 2011 at BBC Television Centre under the title Britain's Favourite, but the studio recording was pulled at short notice. Some 17 months later and under its new name - And You Are...? - and with tweaks to both the rounds and the look of the show, the channel appears ready to produce a pilot episode once more.
And You Are...? is a BBC in-house production, which has been devised by Dan Gaster, Paul Powell and Will Ing. The Black Dog Television trio are also behind Alexander Armstrong's Big Ask (which will be returning for a second series on Dave), and are gag writers for a number of other entertainment shows and sitcoms.
The original pilot was due to focus on people whose first name was Steve, whilst the new recording focuses the questions on people called David.
Producers say: "And You Are...? is an exciting new panel show hosted by multi award winning Miranda Hart. Each week she'll be getting two teams of razor-sharp comedians to answer questions about a group of people who have nothing in common except their name. This week they'll be chatting and bantering about Davids.
"We've rounded up the biggest, best and weirdest Davids from the worlds of showbiz, sport and politics. We've gone back in time. We've found famous, infamous and plain crazy Davids. We'll be finding about David Hasselhoff's big screen disasters, David Cameron's funniest secrets and how Dave Lee Roth relaxes between gigs. From Dickinson to Beckham, from Blaine to Bowie, from David Haye to King David II of Ethiopia, we'll cover them all."
The new pilot is being recorded at BBC Television Centre on Wednesday, 25th July 2012. Should the new recording be deemed a success the BBC is expected to order a series, which will be shown either this winter, or early next year.
Hart is currently preparing for the highly-anticipated third series of Miranda, which she stars in and writes. The hit sitcom is due to be recorded later in the year for broadcast on BBC One as part of its winter schedule.
Hart's new book - Is It Just Me? - is to be released in October. Below is a video in which she introduces the publication.
To find out more about how to send the star embarrassing stories and to pre-order the book see this article: Details
Share this page