Peter Serafinowicz to star in new CBBC sketch show Fit
Peter Serafinowicz to star in new CBBC sketch show Fit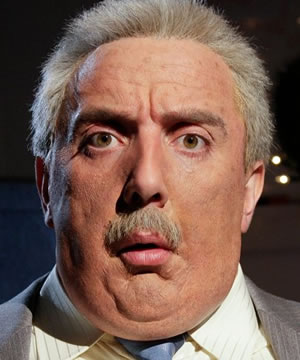 CBBC is reportedly making a new sketch show for kids which is loosely based around the themes of sport and exercise.
Fit, which is currently being tested with audiences ahead of a 2013 broadcast, is being made by Citrus Television, the production company that also co-produces the hit sketch show Horrible Histories. Caroline Norris, the producer who masterminded bringing the best-selling historical book series to TV, will also take on the role of Series Producer on Fit.
Comic actor Peter Serafinowicz will be amongst those appearing in the new show. BroadcastNow reports that he'll be appearing in character as Brian Butterfield (pictured), the overweight businessman he created for his 2007 BBC Two sketch series, The Peter Serafinowicz Show.
Brian Butterfield, a useless but loveable entrepreneur, was created by Serafinowicz after he watched actor Brian Soper appear on TV adverts for the Personal Injury Helpline. Since playing him on The Peter Serafinowicz Show, the actor has also appeared as the character on an episode of Shooting Stars, on Radio 1 with Scott Mills and during his own BBC 6 Music radio show.
The comedian also regularly sends Twitter messages as the character, having setup the @MrBButterfield a while ago. The profile has over 45,000 followers.
Serafinowicz is also currently working on a film featuring the character. The movie, which is scheduled for release in 2013, will see 'Alan Sugar wannabe' Butterfield setting up and running The Butterfield Detective Agency.
The full cast for Fit has yet to be announced, but it's understood that Tony Way, Humphrey Ker and Sara Pascoe are amongst the other performers.
Here's the original Brian Butterfield advert:
And here is the advert for The Butterfield Detective Agency, also taken from the BBC Two show:
Share this page