Stephen Fry, Sean Lock & Jon Richardson for new Channel 4 shows
Stephen Fry, Sean Lock & Jon Richardson for new Channel 4 shows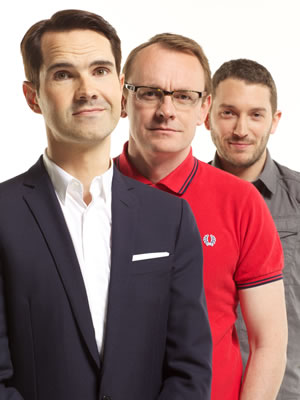 Channel 4 has announced a number of new entertainment commissions today, including some shows likely to be of interest to comedy fans, with the stars of 8 Out Of 10 Cats (pictured) featuring prominently within the new orders.
Sean Lock and Jon Richardson are to present a three-part factual series called Hillbilly Holidays. Described as a show which will "reinvent anthropology", the format will see the comedians visit 'discreet communities' in America to "see how real men live".
Channel 4 says: "From the Cajuns of the Atchafalaya Swamps in Louisiana to the bluegrass hillbillies of North Caroline to the survivalists of Colorado, there are still places corporate America fears to go. Richardson and Lock will be cast off into these forgotten backwaters and new frontiers - where Darwin's survival of the fittest meets the American Dream."
"Lock and Richardson will need to unearth their inner alpha-males and they'll need to pick-up survival skills not featured on Scout badges. They'll go 'gator catching with the Cajuns of the Louisiana swamps, and pan for gold in Alaska. They'll learn the art of hillbilly hand-fishing and brew up moonshine in the Blue Ridge Mountains."
"Staying a week in each location, they will need to win over the locals who often ain't too keen on outsiders. They'll need to pepper the gumbos of red-necked survivalists, dill the pickles of Baptist snake-handlers and be educated in the ways of a nudist hog-trapper and a 3rd generation bootlegger."
Talking about the show, Sean Lock says "I'm particularly looking forward to watching Jon wading through the swamps trying to find a plug for his travel iron", whilst Richardson] comments: "I am hoping that this show will once and for all put an end to rumours that I am not a real man. Failing that, I just hope I don't cry in front of Sean."
C4 executive Ralph Lee adds: "Lucky bastards! It's one of the hardest parts of a commissioner's job to send other people on journeys you'd really like to go on. But we'll make sure they have a properly hard time and insist that it's all got a profound anthropological purpose."
Jimmy Carr also features in the announcements, with new episodes of The Big Fat Quiz Of The Year ordered. Carr will helm three specials of the panel show this year for broadcast at Christmas, with 'big-name guests' answering questions on the 1980s, 1990s and 2000s.
The panel show trio will also join together to take over popular word-based game show Countdown for a second time, following the success of their previous special earlier in the year. Cats Do Countdown Rematch is due to be filmed and broadcast later in the year.
Also in the list of commissions is a new show from Stephen Fry. The QI host is set to present a new factual entertainment series called Stephen Fry: Gadget Man for Channel 4. The six episodes will see Fry, a well-known enthusiast of new technology, "offering his unique and engaging insight into this wonderful world of technology. He'll be showing viewers how ordinary everyday activities can be made more exciting by using the very best time saving tools."
The series will also feature a number of celebrities talking about their personal favourite gadgets as well as a 'big-scale consumer check' to road-test rival products.
Talking about the new show, Fry says: "I am looking forward to further feeding my addiction to all things gadgetry - and having lots of fun in the process - by making this intriguing series for Channel 4."
The channel has also ordered a 45 minute pilot called The Anti Social Network, which it describes as "an edgy and ambitious cross platform comedy show which sees the power of social media harnessed to stage some audacious hoaxes."
Elsewhere, Victoria Wood has signed up to make a two-part BBC One series about tea. Victoria Wood: The Great British Cuppa will see the comedian explore the popular beverage.
Below is a video of 8 Out Of 10 Cats Does Countdown:
Share this page