Tim Vine to host ITV quiz show
Tim Vine to host ITV quiz show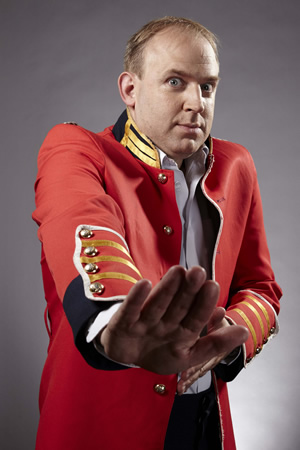 Tim Vine has signed up to host a new family-based ITV quiz show, under the working title Don't Blow The Inheritance.
The format will see different generation family members teaming up, in order to win cash prizes.
Producers describe the show as follows: "The older generation (parents, grandparents, aunts and uncles) battle to build their Inheritance Prize Fund up with thousands of pounds ready to pass on to the next generation (children, grandchildren, nephews and nieces). However... the younger generation team mate can only take the Inheritance Prize Pot home if they don't 'blow it all' at the end of the game! It's down to the younger generation to answer the final questions correctly so they can keep the cash rather than blowing all of mum, dad or granny's hard work!"
The programme is being made by 12 Yard, the production company behind other quiz formats including Eggheads, Who Dares Wins, The Colour Of Money and Holding Out For A Hero.
10 hour long episodes are due to be recorded at the end of this month (Free Tickets) for broadcast on ITV1 later in the year in a daytime slot, and producers are currently looking for contestants. To apply to be on the show visit the ITV website
This will be Tim Vine's first major TV role since he announced in May that he was quitting hit sitcom Not Going Out as he "fancied a change". This news has dismayed many fans of the popular BBC One sitcom, who feel that the chemistry between Vine and Lee Mack is central to the comedy's appeal.
Don't Blow The Inheritance will not be Vine's first presenting role. He was the co-anchor of Channel 5's launch night in 1997 and also hosted the quiz show Whittle on the channel. He then went on to host Fluke on Channel 4.
As he revealed in an interview on this site, amongst his varied career he also worked on an American pilot called Beat The Chimp. Talking about the US show, Vine said: "One of the contestants would be this monkey, with the possibility every week that he might win it. That, with hindsight, was not perhaps such a great idea."
Vine has also appeared alongside his journalist brother Jeremy Vine on Who Wants To Be A Millionaire? and won an episode of Celebrity Mastermind, with Elvis Presley as his specialist subject. The comic is also a regular in Dictionary Corner on Channel 4's word-based quiz show Countdown, and will be appearing on the populer series later this week.
Last year he developed a BBC pilot called Tim Vine Travels In Time, however - as he explained to BCG in November - the corporation has decided not to pick it up. He commented: "It got as far as a read through. We performed it in a pub in front of about 70 people and, sadly, it was end-to-end laughs for 40 minutes... and that obviously threw the BBC!"
After recording Don't Blow The Inheritance, Vine will be appearing at the Edinburgh Fringe throughout August where he will be reprising The Tim Vine Chat Show. The format sees the comic picking a random member of the audience to come up onto stage to be interviewed by Vine about their life.
Vine will also be continuing his live stand-up performances, with his reputation for delivering cheesy puns now firmly secured. Below is a clip of him performing on Dave's One Night Stand.
Share this page