Ventriloquist Paul Zerdin creating TV sitcom pilot
Ventriloquist Paul Zerdin creating TV sitcom pilot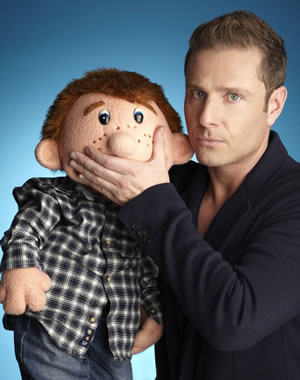 Experienced ventriloquist Paul Zerdin is working on a new television project - a sitcom pilot which will star himself and his puppets.
The comedian has not revealed which channel has ordered the pilot, but British Comedy Guide understands it is for one of the four main terrestrial channels. Zerdin is scripting the show at the moment with his writing partner, and studio time to record the pilot is currently scheduled for September.
Should it be commissioned for a series, the show will be Zerdin's big TV break. The comedian won LWT's The Big Big Talent Show in 2006, which lead on to an appearance on The Prince's Trust Gala Show the following year. He has since had guest spots on shows including The Royal Variety Performance, The World Stands Up and Comedy Rocks With Jason Manford, however currently spends most of his time performing live shows.
Should Zerdin's sitcom be commissioned, not only would it raise his own TV profile, but it'd also bring the art form of ventriloquism back to mainstream UK TV in a notable way. As one talent agency source commented to us: "Aside from the occasional light entertainment guest spot for Paul, Nina Conti and, I suppose, Keith Harris & Orville, ventriloquism is totally absent from British television at the moment. Jeff Dunham is huge in America and gets his own TV specials... but we don't have anything like that in Britain at the moment - it's a shame."
Based on Birkbeck University research, it is believed in the 1960s there were around 400 full-time ventriloquists working in the UK, but by the early 2000s this had dropped to just 15 professionals.
Zerdin is set to tour the country from the end of July with his new live show - Puppet Master. His regular characters are Sam, a mouthy young boy; Baby, an inquisitive tot; and Albert, a feisty old man. Zerdin is also known for interacting with the audience using a mask prop, as was demonstrated on Comedy Rocks With Jason Manford.
Speaking to British Comedy Guide ahead of his new live show, Zerdin confirmed: "I'm in development with a production company for my own TV show, which I'm doing a pilot for in September. It's a show I've written with my writing partner, and it's me and all the puppets."
Elaborating further on the concept, he added: "It's a sitcom. It's basically 'Seinfeld meets The Muppets'. It's like the 'mad world of Paul Zerdin' really... you get to see what goes on 'at home' with me and the puppet characters when we come off stage".
Here's Paul Zerdin's appearance on Comedy Rocks. This video is very popular on the internet and is now approaching four million views on YouTube:
And here is some older footage of Zerdin featuring his various puppets:
Share this page