10 O'Clock Live set to return for a third series
10 O'Clock Live set to return for a third series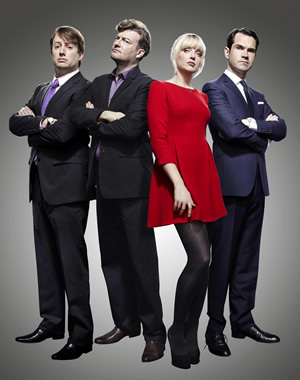 BroadcastNow is reporting that 10 O'Clock Live - Channel 4's topical satire show starring Charlie Brooker, Jimmy Carr, Lauren Laverne and David Mitchell - looks set to return for a third series.
The weekly hour-long show, which is broadcast live on Channel 4, will return in 2013 for more episodes if sources are correct.
The website reports: "The weekly live comedy is on the brink of being commissioned with discussions with all the major talent taking place. Charlie Brooker, David Mitchell, Lauren Laverne and Jimmy Carr are all understood to be returning to the show."
This news may come as a surprise to many, as the most recent series of the show - broadcast February to April this year - struggled to gain much praise in the press, despite tweaks to the format.
The series was moved to Wednesday nights to avoid clashing with Question Time, and a number of the format points from the first series dropped and modified (including David Mitchell's monologue and Jimmy Carr's guest interview) to allow the writers more time to concentrate on each item, and to stop the show feeling so rushed.
However, Channel 4 are evidently pleased with progress the show was deemed to have made: it managed to boost ratings from an average of 883,000 to 997,000 viewers an episode, with the programme averaging a 5.1% share of the entire television audience in its time slot.
It is likely that when the show returns there will be further tweaks to the format, as producers continue to work out what does and doesn't work. Broadcast notes: "Changes to the format are still being ironed out and it is not clear whether the third series will feature the same number of episodes as previous series."
This is not the first time 10 O'Clock Live has been in the news this week. Yesterday it was reported that Jimmy Carr is involved in a tax avoidance scheme, with many media outlets running the following sketch from 10 O'Clock Live alongside the story, which shows Carr criticising Barclays Bank for dodging tax:
Jimmy Carr was appearing in Tunbridge Wells last night and was heckled with a shout of "You don't pay tax" from the audience. He responded: "I pay what I have to and not a penny more", adding "I've not broken the law, I've not done anything illegal, but morally...", before trailing off and commenting, in reference to the fact it was Rupert Murdoch owned paper The Times that broke the story: "Whose fucking moral compass am I? When the Murdochs are questioning your morality, you know you're in trouble."
Share this page