C4 announces 30 hours & 11 new shows for 'Funny Fortnight'
C4 announces 30 hours & 11 new shows for 'Funny Fortnight'
Channel 4 has announced today that it is to broadcast a programming block during August called Channel 4's Funny Fortnight. The two-week period will feature over 30 hours of comedy programming, including a number of significant comedy pilots, and a selection of archive Channel 4 favourites.
Here are the shows that are involved:
---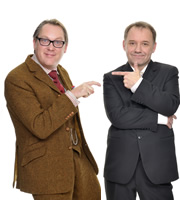 Lucky Sexy Winners
Lucky Sexy Winners sees Shooting Stars hosts Vic Reeves and Bob Mortimer returning to Channel 4 to 'once again rip up the rule book for panel and quiz show formats'.
Their new programme will showcase new comedy talent, original sketches, new characters and several un-expected anarchic twists along the way.
---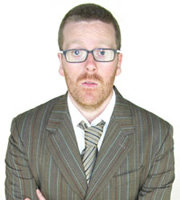 The Boyle Variety Performance
The Boyle Variety Performance is a stand-up format in which Frankie Boyle gives his unique take on a royal variety event of a similar name. Complete with red carpet, celebrity guests, comedy, variety, music and 'a generous helping of Frankie himself', the show will come direct from a London theatre, and feature content 'so cutting edge and scurrilously funny that no self respecting royal would ever dream of attending'.
---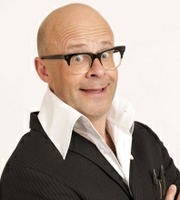 Harry Hill: The Reunion
This commission confirms speculation that Harry Hill is looking to partner with Channel 4 on future projects. This one-off show hosted by the TV Burp star looks back at the seminal series Harry Hill, which ran for three series on Channel 4.
Harry Hill: The Reunion, which is directed by the star himself, will see Hill seeking out the cast and asking "where are they now?".
---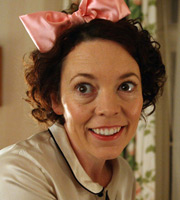 Bad Sugar
The highly-anticipated new pilot written by Peep Show's Sam Bain and Jesse Armstrong. Bad Sugar stars Olivia Colman, Julia Davis and Sharon Horgan - the three of whom co-conceived the idea.
The story centres on a dysfunctional, wealthy mining dynasty, with an ailing patriarch and some greedy siblings. It's described as being a peculiarly British take on telenovela style melodramas, played for laughs. Peter Serafinowicz, Kayvan Novak and Reece Shearsmith also appear.
---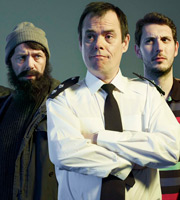 The Function Room
This sitcom featuring an all-star cast has been delayed from last year's Comedy Showcase season. Penned by TV Burp writer Dan Maier, The Function Room is set in a pub room which sees pub regulars who've booked the room for different events joined by new characters each week. In this pilot episode the space is being used for a local community 'Meet The Police' event. The ensemble cast includes the likes of Reece Shearsmith, James Fleet, Simon Day and Kevin Eldon.
---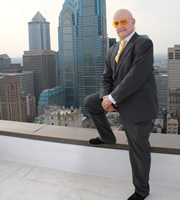 Very Terry
Fonejacker and Facejacker star Kayvan Novak stars as Terry Tibbs in this comic chat show pilot.
The car salesman turned international television star character will subject his celebrity guests to his own unique brand of interview technique.
---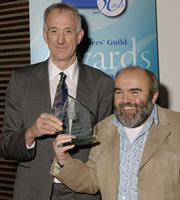 Just Around The Corner
Sitcom pilot written, produced and directed by Outnumbered and Drop The Dead Donkey creators Guy Jenkin and Andy Hamilton.
Just Around The Corner is set in the future. It's the story of a suburban family, the Pilches, who live in an uncertain, unsettling and warmer world where all the banks have disappeared, along with much of Britain's coastline.
---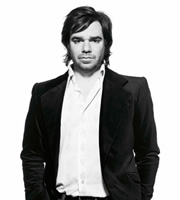 Toast Of London
A new sitcom pilot written by Arthur Mathews (Father Ted, Big Train) and Matt Berry (The Mighty Boosh, Garth Marenghi's Darkplace).
Berry stars as Steven Toast, a successful actor now in his forties who regularly appears in prestigious television dramas, and on the London stage. However, Toast has made a recent career faux pass by electing to star in a new controversial West End stage play.
---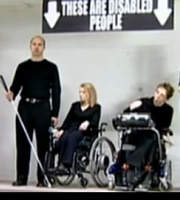 I'm Spazticus
A revival of the 2005 Comedy Lab pilot. I'm Spazticus is a prank show format featuring disabled performers who prank able-bodied members of the public.
A mix of hidden camera show and mock-doc, the programme features a number of recurring characters as well as one-offs.
---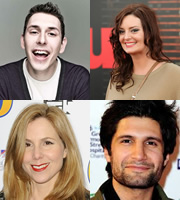 Them From That Thing
Two-part sketch show featuring Blake Harrison (The Inbetweeners), Kayvan Novak (Facejacker), Sally Phillips (Smack The Pony) and Morgana Robinson (Very Important People) alongside a host of famous faces from the world of drama.
The show combines the look and feel of great British drama with a silly and slightly unhinged comic sensibility.
---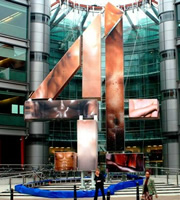 Channel 4's 30 Greatest Comedy Shows
A countdown of the 30 greatest comedy shows in Channel 4's contribution to British comedy. Expect shows like Spaced, Peep Show, Father Ted, Trigger Happy TV and Brass Eye to feature.
The programme will show classic clips and tell the stories behind them. Contributors will include Simon Pegg, Al Murray, Charlie Higson, Vic & Bob, Jessica Hynes and Sally Phillips.
---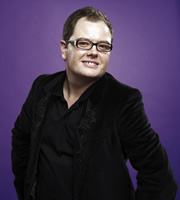 Stand-Up Premieres
The broadcaster will also be screening stand-up shows from Alan Carr, Peter Kay, Lee Evans and Micky Flanagan during the fortnight.
In each case this is the comedian's latest live stand-up show, which has not been seen on TV before.
---
Plus additionally the channel has scheduled classic episodes of shows including The IT Crowd, Father Ted, Brass Eye, The Inbetweeners, Peep Show, Spaced and Vic Reeves Big Night Out. The episodes selected have been chosen by the writers.
Channel 4 will also screen a series of 'Lost Gems' during the fortnight. These archive programmes will include Vic & Bob's The Weekenders, Harry Enfield's Norbert Smith: A Life, a Peter Cook appearance on The Clive Anderson Show, plus various old Comedy Lab pilots featuring the likes of Peter Kay and Karl Pilkington.
Shane Allen, Channel 4's Head of Comedy, says: "Channel 4 has been at the forefront of British comedy from day one. We've launched so many careers by backing new talent and have never been afraid to get in trouble all for the comedy cause. Channel Four's Funny Fortnight is a chance to celebrate our achievements with a raft of new shows featuring many of the biggest names in British comedy".
The exact dates of the August broadcasts have not yet been announced.
Share this page