Comic Strip return with new film for GOLD
Comic Strip return with new film for GOLD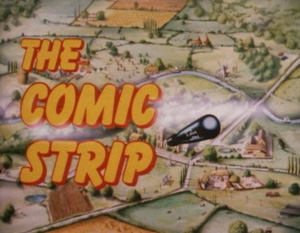 Details of the next The Comic Strip Presents... film have been revealed, with the team set to reunite for a 30th anniversary special on GOLD later this year.
The new film, Five Go To Rehab, will catch up with the Enid Blyton spoof characters as they struggle with life in the real world, having failed to achieve the ideals expressed in the series' first ever film, 1982's Five Go Mad In Dorset, and the 1983 episode Five Go Mad On Mescalin. The GOLD commission also includes a 2-hour retrospective of the cult series.
According to trade magazine Broadcast, negotiations between production company Great Western Features and original stars including Dawn French, Adrian Edmondson, Jennifer Saunders and Robbie Coltrane, are currently under way.
The Comic Strip series returned to its original home of Channel 4 in October 2011 with its first film in 6 years, The Hunt For Tony Blair. Having begun on Channel 4's own launch night in 1982, the format moved to BBC Two for a number of years from 1990 - making GOLD the third channel to be home to the series.
Executive producer Nick Smith said: "GOLD has shown a lot of the Comic Strip films, so we had a good relationship, and the anniversary project seemed to be a perfect fit for the channel because of its retro feel."
GOLD commissioner Sarah Fraser added: "The Comic Strip is a heritage brand which we can update. It will have a nostalgic feel with a contemporary twist."
Both the new film and retrospective are expected to broadcast some time in November.
Here follows the trailer for 2011's The Hunt For Tony Blair.
Share this page