BBC Three announce new Greg Davies comedy Cuckoo
BBC Three announce new Greg Davies comedy Cuckoo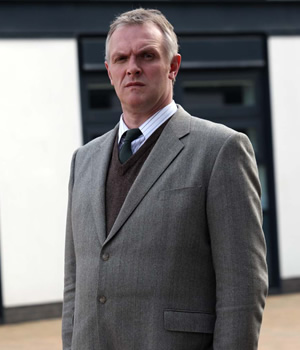 BBC Three has announced more details about Cuckoo, its new sitcom about the over-protective father of a girl who has impulsively married an American hippie.
The six-part series will be headed up by Greg Davies (pictured), alongside Hollywood star and Saturday Night Live stalwart Andy Samberg.
Set in the Midlands, Cuckoo observes as Ken and Lorna Thomas collect their daughter from the airport and are horrified to learn that she's returned from her gap year with more than just a henna tattoo and braids in her hair. At the arrival gate, she promptly introduces them to her new husband, Cuckoo - the squared-jawed, self-appointed spiritual ninja who is now their son-in-law.
The American is every parent's worst nightmare - a slacker full of outlandish, New Age ideas. Ken and Lorna have no choice but to welcome him into their family home, but they're not happy about it.
Davies, perhaps best known for his role as teacher Mr Gilbert in The Inbetweeners plays Ken, whilst Helen Baxendale (Cold Feet, Dirk Gently) will play his wife Lorna.
Tamla Kari, who has previously played Lucy in The Inbetweeners Movie and Pearl in Being Human, takes on the role of the daughter, with Andy Samberg - star of forthcoming Adam Sandler comedy film That's My Boy - as Cuckoo.
The series has been created by Robin French and Kieron Quirke, British writers who have previously written for Armstrong & Miller and created the 2009 university-based ITV2 comedy drama series Trinity.
The show will be Executive Produced by Ash Atalla through his production company Roughcut Television, with Ben Taylor (Spy, Cardinal Burns) as director.
Ash Atalla says: "The best of British meets the toast of Hollywood. We hope Cuckoo cements the special relationship between our two great countries. I imagine Obama and Cameron will be watching closely."
Channel controller Zai Bennett added: "BBC Three continues to break new comedy. Cuckoo is both original and unique. We're delighted to be announcing this exciting new sitcom with such an illustrious cast from two of my favourite new writers."
Cuckoo is due to be filmed this summer, and will be shown on BBC Three in the autumn.
Share this page