UKTV GOLD to show never-seen-before Morecambe & Wise footage
UKTV GOLD to show never-seen-before Morecambe & Wise footage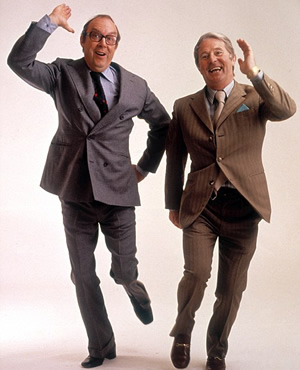 UKTV's digital comedy channel GOLD has announced it has commissioned Bring Me Morecambe And Wise, a five-part series looking back at comedy duo Eric Morecambe and Ernie Wise.
The hour long episodes aim to provide a "fascinating insight into Britain's most iconic comedy duo" and notably will feature rare and never seen before sketches and routines.
With first hand testimony from Eric Morecambe's wife, Joan, and others of those who knew the duo best, Bring Me Morecambe And Wise will blend comment with rare and unseen footage, providing a unique view of the pair whose comedy partnership lasted 43 years. Each episode also features famous sketches and routines, revealing why Eric & Ernie's popularity endures to this day.
Commissioning Editor Helen Cooke says: "Bring Me Morecambe And Wise fits GOLD's remit perfectly and we are excited to be providing viewers with an exclusive sneak peek at rare and previously unseen footage of Eric and Ernie. They have become a British institution and helped shape this country's comedy scene over a number of decades."
This announcement is part of the UKTV network's renewed focus on ordering original programming rather than just transmitting repeats. Other notable commissions include a 10th series of Red Dwarf for Dave and a new series of Yes, Prime Minister, which will air on GOLD later this year.
UKTV executive Steve North says: "Morecambe & Wise are perhaps Britain's favourite double act and it's a privilege to have access to never seen before footage and showcase it on GOLD, Britain's favourite comedy destination. This series reinforces the channel's multi-million pound commitment to investing in original content."
Eric Morecambe and Ernie Wise performed together from 1941, right up until Morecambe's death in 1984. After an initial mis-step with Running Wild in 1954, the duo became huge TV stars on both the BBC and ITV, with The Morecame & Wise Show. The duo's 1977 Christmas special is still one of the most watched TV shows in British history, as over 21 million viewers turned into to watch sketches including the song There Is Nothing Like A Dame performed by BBC TV presenters.
Radio 4 Extra is currently broadcasting a complete repeat run of their 1975 Radio 2 series, The Eric Morecambe And Ernie Wise Show.
Here is their famous sketch with Andre Previn, which will be discussed in this new series:
And below is one of their most famous big-budget sketches, followed by their signature end-of-show Bring Me Sunshine sign-off:
Share this page