John Bishop to host Sky series focusing on jokes
John Bishop to host Sky series focusing on jokes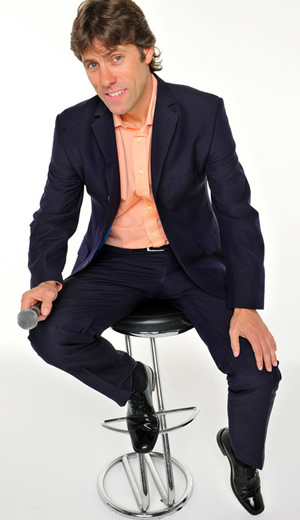 John Bishop is to present a major new comedy series for Sky1. The channel announced today that the comic has signed up to host John Bishop's Only Joking, a ten-part series 'that deals unashamedly in jokes and nothing but jokes'.
The format of this new show involves professional comedians, celebrities and members of the public telling their favourite jokes. Sky explains: "John Bishop will hold court in the studio as he is joined by a number of stellar comedians, both new, established and old school. Meanwhile, the cameras will travel the length and breadth of the country to hear members of the public and celebrities alike tell us their funniest jokes."
John Bishop says, "This is a great opportunity to make a show that allows everyone to join in the joke. I'm really looking forward to working with everyone involved."
The show is being made by Channel X, which has previously worked with Bishop to film his Elvis Has Left The Building stand-up show. Jim Reid, Director of Programmes for the company, says: "This is the dream commission; fill 30 minutes of TV with top quality jokes and have John Bishop lead out the team to do so."
John Bishop's Only Joking is the latest in a long stream of original new home-grown commissions from Sky, with other shows in development including Don't Sit In The Front Row, a stand-up series for Sky Atlantic hosted by Jack Dee. Bishop already has a good relationship with Sky1, as he acts as a regular panellist on its sports-based panel show A League Of Their Own and has previously written one of its Little Crackers festive shorts.
Phil Edgar Jones, Head of Entertainment for Sky, says: "If there's one person who's guaranteed to put a smile on our faces, it's John Bishop. We're thrilled to be working with him, and the team at Lola Entertainment and Channel X on this exciting new show which will, almost literally, deliver a laugh a minute."

This new commission signals the end of John Bishop's Britain, the studio-based entertainment show that the Liverpudlian comedian hosted two series of on BBC One. Much like John Bishop's Only Joking, this show also employed a video wall in the studio to display filmed interviews with members of the public.
However, one thing that may be of concern to professional comedians is that this new format could lead to some of their jokes being passed on unattributed. One-liner comics such as Milton Jones and Tim Vine already have particular trouble keeping 'ownership' of their gags and Sky doesn't detail how it will ensure the jokes told by the public and celebrities on the show will avoid any plagiarism concerns.
John Bishop's Only Joking will be filmed this summer on location and in front of a studio audience, and is expected to be broadcast on Sky1 towards the end of the year.
Below is a clip of the star in action on John Bishop's Britain:
Share this page