E4 commissions prank show targeting celebrities
E4 commissions prank show targeting celebrities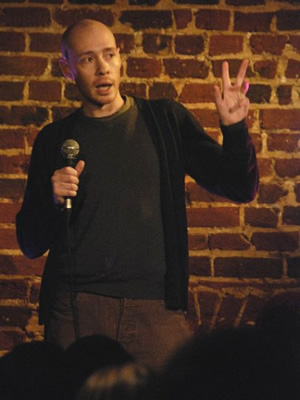 E4 have announced a new prank show commission, Lee Kern's Celebrity Bedlam. The series, which will star stand-up comic Lee Kern (pictured), is aiming to fool celebrities into believing outlandish set-ups.
Channel 4 says the six part series will see "a plethora of celebrities confronted with one outlandish set-up after another in a surreal and ambitious take on the prank show. Lee creates a world of absurd situations as he shows just what sort of mess unsuspecting celebrities can get themselves into when asked to deal with and talk about the big issues of the day."
Pranks to be attempted by Lee Kern on the show include him trying to convince celebrities that badger culling in Rickmansworth is now being carried out by Native Americans; acting as the world's only blind racing driver; and convincing one celebrity that it was actually a monkey who played the drums in Dire Straits.
In one particularly bold setup, Kern, posing as a scientist in a fake laboratory, also manages to convince certain celebrities that they are meeting human clones of themselves.
The creators say: "Over the series, Lee will explore the environment, science, travel, health, fame and the end of the world and try and help celebrities answer questions such as: Is there such a thing as a bat with human testicles? Why has the iceberg hit by the Titanic been discovered near Sri Lanka? And did Captain Scott really trek to the South Pole with a Robot? So... will Lee be able to convince celebrities of the ability for your five a day to cure sexually transmitted diseases?"
This will be Lee Kern's big TV break. The comedian has previously provided voices for Modern Toss and presented Big Brother: What The Housemates Did Next. This new show follows on from last year's one-off The Royal Wedding Crashers, in which he created prank scenarios linked to the Royal Wedding.
Executive Producer Nathan Eastwood says: "Lee Kern is a great new talent with brave, mad and hilarious ideas. From convincing celebrities that scientists can understand dolphin language to introducing celebrities to their living clones, Lee's pulled off a brilliant, funny and clever celebrity bashing roller coaster ride."
This commission is one of a number of new TV prank show series in the works, as the format seems to be in favour with commissioners again. Dom Joly is currently making Fool Britannia for ITV1, whilst Richard Hammond will present Secret Service for BBC One, and Sky1's That Hidden Camera Family, originally scheduled for November 2011, is expected to begin in the next few months.
Lee Kern's Celebrity Bedlam won't be the first comedy show to attempt to make celebrities look foolish. In 1997 Chris Morris created the groundbreaking Brass Eye, a show which managed to convince a number of public figures to endorse fictitious charities and causes.
Below is a clip from the infamous Drugs episode of Brass Eye, in which the likes of Rolf Harris, Bernard Manning and Noel Edmonds are convinced to talk about the fictional narcotic 'cake':
Share this page