Blake Harrison to star in Comedy Central sitcom Big Bad World
Blake Harrison to star in Comedy Central sitcom Big Bad World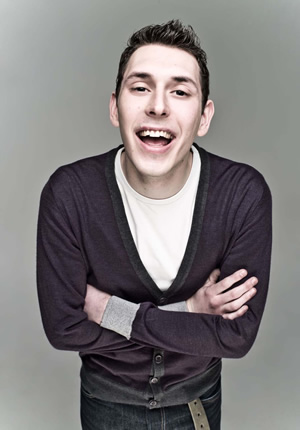 Comedy Central has announced the cast for Big Bad World, a new single-camera sitcom about Ben, a recent university graduate who returns to his hometown and starts hanging out with his old mates again while deciding what to do with his life.
Blake Harrison, best known as Neil from The Inbetweeners (pictured), will take on the lead role of Ben Turnbull, who returns home after three years away at university to be reunited with his friends. Newcomer Rebecca Humphries will play smartarse charity mugger Beth, stand-up comic Seann Walsh will play Ben's guitar-obsessed 'bedsit-philosopher' friend Eggman, and Pete Versus Life actor David Fynn takes on the roll of Oakley, a 'year-round-wearer-of-shorts-and-flipflops'.
Ben's parents will be played by comedy veterans Caroline Quentin and James Fleet. Quentin's previous sitcom roles include Dorothy in Men Behaving Badly and Maddy in Life Of Riley, whilst Fleet is perhaps best known for playing Hugo Horton in The Vicar Of Dibley.
Big Bad World has been written by Joe Tucker and Lloyd Woolf, who are also the creators of new Sky sitcom Parents. Additional episodes have been penned by Black Books writers Kevin Cecil and Andy Riley.

The programme is being made by Objective Productions, the company behind series including Peep Show and Fresh Meat, and will be directed by Tristram Shapeero, whose long CV also includes the likes of Green Wing and Pulling and American comedies such as Community and Veep.
Executive Producer Andrew Newman says: "It's very exciting to be working with such a brilliant cast on a new project. Comedy Central already have many of the best comedy shows from around the world and we are very proud to be making a new British one for them."
Comedy Central's Sarah Farrell adds: "It's with huge excitement that we're able to reveal the fabulous cast that this script and Objective have attracted. We can't wait to see the finished programme and have very high hopes that this is our next big show."
It should be noted that Big Bad World is still a working title and may be changed. ITV1 is shortly due to broadcast a panel show called Mad Mad World, which has a somewhat similar title.
As previously reported, this new commission is part of Comedy Central's move into creating new home-grown comedy shows. The channel has also ordered a second series of Threesome.
Share this page