New Alan Partridge shows announced by Sky Atlantic
New Alan Partridge shows announced by Sky Atlantic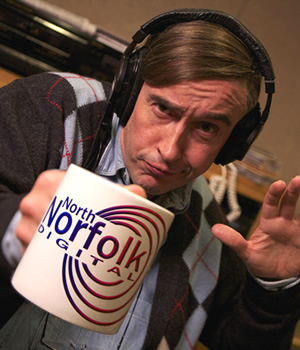 Sky Atlantic has announced an output deal with Baby Cow Productions, the production company owned by Steve Coogan and Henry Normal. The result is a number of new commissions featuring Coogan, including two new Alan Partridge specials.
Alan Partridge: Welcome To The Places Of My Life will be a one-off 60-minute special in which Alan tours his beloved Norfolk, showing viewers the places that have shaped the man he is today.
Alan Partridge On Open Books With Martin Bryce, another 60-minute special, turns the tables on Alan Partridge as he's interviewed by author Chris Beal (Robert Popper). In front of a local book club, Alan gives a unique insight into his passion for books and his tips on being a writer.
The two new specials will accompany Alan Partridge's Mid Morning Matters (pictured), a six part TV series that has been edited together from the hit online web series created for Foster's lager.
Coogan will also act as narrator on Uncle Wormsley's Christmas, a one-off 30 minute animated 'cautionary tale with a dark heart' aimed at children. Uncle Wormsley is a grey, decaying old man, who dedicates his life to the care of his only friend, a monstrous crab called Crabsley who lives in a dungeon under his house. Across town lives Johnnie Goodington, a rich boy who has everything money could buy except one thing - a giant monstrous crab. The characters will be voiced by Julia Davis, Julian Barratt and John Thompson.
Plus, as part of the output deal, Sky Atlantic will also show Steve Coogan's Stand Up Down Under, a two part series which charts the highs and lows of the comedian's tour across Australia and New Zealand in 2009. The 60 minute episodes features exclusive footage from his performances and unrestricted back stage access.
As previously announced, Baby Cow is also making Hunderby for Sky Atlantic. Written by and starring Nighty Night star Julia Davis, the 7-part series focuses on a shipwreck survivor washed ashore near a small English village in the 1800s.
Steve Coogan says: "I'm very excited about continuing our fruitful working relationship with Lucy Lumsden and Stuart Murphy with a host of exciting new shows for Sky Atlantic including several new incarnations of Alan Partridge. Alan has been off the TV for too long but he is even more excited than me about his chance to have a second bite of the cherry. Alan feels the second decade of the millennium is the right time."
Henry Normal adds: "Sky Atlantic looks like being at a party everyone wants to go to. I feel really fortunate that Baby Cow can be at the beginning of this great adventure."
Sky's head of comedy Lucy Lumsden comments: "Sky Atlantic is providing our best writer performers the space to feel creatively free. Who better to kick off our new season of comedies than the phenomenally talented Steve Coogan. We cannot wait."

The new Alan Partridge shows will begin on Sky Atlantic in June.
This new deal is part of Sky's continuing investment in home-grown British comedy, and a demonstration of its new strategy to spread its commissioning beyond Sky1 and to its other channels too. Other new comedies coming up on Sky Atlantic include Kathy Burke's Walking And Talking; and new stand-up show Don't Sit In The Front Row, which will be hosted by Jack Dee.
Sky Atlantic has also confirmed it will air the second series of Alan Partridge's Mid Morning Matters in 2013. Foster's is expected to put this new series out on the internet in the autumn.
Meanwhile, 2012 looks set to be a busy year for Steve Coogan, aside from his TV work he has recently been filming The King Of Soho, a film about the life of porn baron Paul Raymond, plus has just been cast in Northern Soul, a film about the underground music movement that took Northern England by storm in the 1970s.
Share this page