Keith Lemon to star in his own 'reality show'
Keith Lemon to star in his own 'reality show'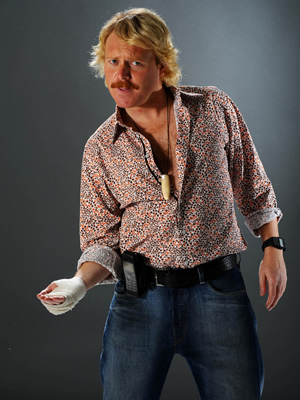 ITV is developing another new comedy format for Keith Lemon, the character created by Leigh Francis.
Lemon La Vida Loca, a sitcom format pretending to be a reality TV show, will follow the character as he goes about his 'life' in what is described as a 'hugely eventful year' for the man.
The show is being made by the same team as Leigh Francis' other recent TV projects. Dan Baldwin, the boss of production company Talkback, told Broadcast Magazine that Lemon La Vida Loca would come across as like a "cross between Keeping Up With The Kardashians and I'm Alan Partridge."
Francis first created the Keith Lemon character for his Channel 4 sketch show Bo' Selecta! in the early 2000s. In 2008 he took the character onto [y]ITV2[/y]'s comic travel show format Keith Lemon's Very Brilliant World Tour. However, it was when the comedian launched the panel show Celebrity Juice that his character became widely known and recognised.
Celebrity Juice has just enjoyed its most successful series on record, with an impressive average audience of more than 2 million viewers tuning in each episode. As a result, ITV are now looking for new formats for Francis, with early evening family-friendly entertainment format Keith Lemon's LemonAid - currently broadcasting on Saturday nights - being the most recent platform for the star.
Talking about LemonAid, Baldwin told Broadcast: "Taking Keith, who's seen as rude and crude, and putting him on Saturday teatime is a bold step. But we've got more than 3 million viewers - Harry Hill didn't get that until series four or five. It's dangerous comparing Hill and Lemon, but they're both comedy characters, so I understand why it happens. Of course I would like Lemon to be as successful as Hill."
Lemon La Vida Loca is being filmed now, for broadcast later in the year. Keith Lemon - The Film is due to launch in cinemas this August.
Share this page