All-star cast announced for Sky Arts comedy Psychobitches
All-star cast announced for Sky Arts comedy Psychobitches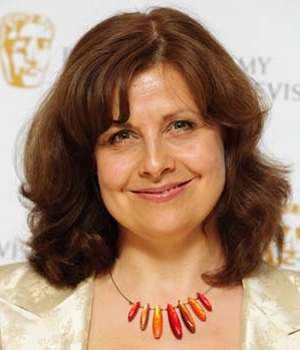 Sky Arts has announced Psychobitches, a one-off all-star production that sees some of history's most famous women psychoanalysed.
The sketch show is the final addition to the channel's successful Playhouse Presents series of shows. The 30 minute comedy "aims to put history's most famous women into the psychiatrist's chair and shine a spotlight on their psychoses and obsessions."
The programme will deliver fictional versions of historical characters like Beatrix Potter (who believes the animals really are talking to her), Joan of Arc, Judy Garland (shown coping with her bi-polar mood swings) and Eva Braun.
The comedy will star Grandma's House actor Rebecca Front (pictured) as the therapist interviewing the various characters; with Catherine Tate as Eva Braun and Edith Piaf; Sharon Horgan as Jane Austen and Frieda Kahlo; and Katy Brand as Joan of Arc and George Eliot.
The show will also feature Sheila Reid (Madge in Benidorm) as Mother Theresa; Samantha Spiro (Auntie Liz in Grandma's House) as Mary Whitehouse and Judy Garland; plus Selina Griffiths (Janet in The Smoking Room) as Beatrix Potter; and Andy Nyman (Jonty de Wolfe in Campus) as Sarah, wife of the Biblical Abraham.
Psychobitches will be directed by Jeremy Dyson, the fourth, non-performing member of The League Of Gentlemen. This will be the first time the writer has directed a TV comedy.
Ben Cavey, from production company Tiger Aspect, says: "Psychobitches has to be one of the most exciting ensembles of female comedic talent and Andy Nyman. I'm so excited that Jeremy Dyson has decided to get to direct a TV comedy for the first time."
The show has been written by a team of experienced writers, as Cavey explains: "The team of writers - Jeremy Dyson, Laurence Rickard, Simon Carlyle & Morwenna Banks, Bert Tyler-Moore & George Jeffrie - have created a brilliantly unique and original way of interpreting the sketch genre. And with the brilliant Pippa Brown at the helm as producer, this is a truly exciting collection of talent that Tiger Aspect are extremely pleased to have brought together."
Psychobitches will be screened on Sky Arts on the 21st June 2012.
The commission is part of Sky's new strategy to invest in home-grown comedy across all its portfolio of channels. The Spa, a new comedy series for Sky Living that also stars Rebecca Front, was announced earlier today by the broadcaster.
Share this page