Vic & Bob to return to Channel 4
Vic & Bob to return to Channel 4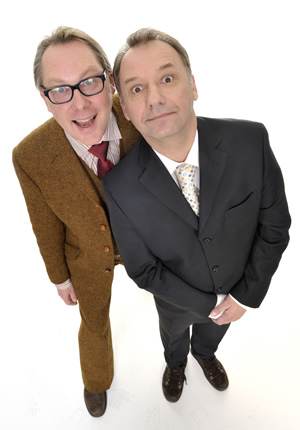 Vic & Bob are set to return to Channel 4 to take part in the broadcaster's 30th anniversary celebration programming.
The comedy duo will present one of the programmes in the broadcaster's new summer comedy season, which is linked to the 30th birthday of Channel 4. The channel was 'born' on 2nd November 1982, however the broadcaster will be celebrating with its 'Heritage Season' in August, making use of a two week slot between the Olympic Games and Paralympics.
Vic Reeves and Bob Mortimer started their TV career on Channel 4 in 1990 when Jonathan Ross's production company Channel X first brought Vic Reeves Big Night Out to screens. The show ran for two series, before the duo jumped ship to the BBC with The Smell Of Reeves And Mortimer. Ross himself had first found fame on the channel with his comic chat show The Last Resort.
It is not known yet whether Reeves & Mortimer will be reviving Big Night Out or creating a new programme. The double-act presented eight series of Shooting Stars between 1993 and 2011 for the BBC, but the surreal panel show was axed late last year. The duo have also presented an online series of sketches for lager brand Foster's.
Speaking to The Sun in February, Vic Reeves confirmed that he and Mortimer have some new ideas for shows. He said: "Shooting Stars is getting on for 20 years old so it was probably a good thing the BBC didn't want it anymore. We can go on to be more creative. We are probably doing something that is similar but better."
He added: "We have had a few ideas for names - one is Lucky Winners. I think that probably is the worst name for it ever but we like it. It's going to be Bob and me and probably Dan Skinner."
Dan Skinner is the character comedian who plays Angelos Epithemiou. Following a successful pilot in December, Vic and Bob's production company Pett Productions, is currently producing a six-part series for Channel 4 called The Angelos Epithemiou Show.
Vic Reeves and Dan Skinner also recently worked together on surreal CBBC show The Ministry Of Curious Stuff, and Reeves has been announced as one of the stars of new BBC sitcom Hebburn.
The other shows lined up for Channel 4's Heritage Season are expected to be confirmed shortly. They are expected to comprise of a mix of old favourites that have not aired for several years, and a series of new pilots and one-offs from current talent working with the broadcaster.
Speaking to British Comedy Guide today to promote the new Facejacker DVD, Kayvan Novak confirmed he is making a pilot chat show to broadcast during the season. The programme will be hosted by him in character as Fonejacker and Facejacker favourite, car salesman Terry Tibbs.
Here is an episode of Vic Reeves Big Night Out.
Share this page