BBC order more Horrible Histories
BBC order more Horrible Histories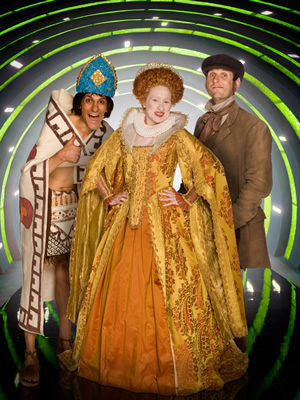 Childrens' sketch show Horrible Histories has already been recommissioned, British Comedy Guide can now reveal.
The CBBC comedy, a fourth series of which begins today, has been a surprise hit for the BBC since its launch on BBC One in 2009, attracting both critical acclaim and widespread popularity.
Its status was sealed last year with a dedicated Horrible Histories Prom at the Royal Albert Hall, and a Sunday prime-time BBC One series, hosted by Stephen Fry, showcasing the best sketches from the first two series. It also became the first childrens' comedy to pick up a British Comedy Award in a non-kids' category when it won the Best Sketch Show title for 2010 - and repeated the feat for 2011.
The predominantly live action show is based on the popular series of humourous factual books of the same name, created and largely penned by Terry Deary with illustrations mostly by Martin Brown. The TV series follows the books' lead of engaging children in factually accurate history through humour and otherwise overlooked points of strange and gruesome trivia.
The fourth series, which begins later today on the dedicated childrens' channel CBBC, consists of 12 episodes and a musical special, with a Halloween special due to follow in October. Writing is now underway for Series 5, which will be recorded this summer, with broadcast expected this time next year.
Here's a classic musical sketch from the first series of Horrible Histories, in which Henry VIII sings about his wives.
Share this page