Adam Buxton's BUG video show to move to TV
Adam Buxton's BUG video show to move to TV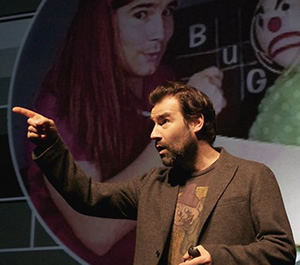 BUG, Adam Buxton's cult live show format, is set to transfer to TV.
Buxton - best known as one half of Adam & Joe - has been running BUG bi-monthly at the BFI since 2007, and touring it around the country. The show purports to showcase 'interesting, brilliant, strange and otherwise noteworthy music videos' but more often than not is focussed around the comments made against the videos on sites such as YouTube.
Next week Buxton will begin filming eight BUG shows for digital channel Sky Atlantic.
Producers Burning Bright Productions explain: "Adam Buxton's Bug is a chance to spend half an hour inside Adam Buxton's head - and why not? It's good in there. Filmed on location in front of a small audience, Adam Buxton's Bug will take the form of a lecture complete with giant screen and laptop. Marking the evolution of the incredibly successful live Bug shows, the series will showcase a wealth of existing music videos as well as a series of completely original videos straight from Adam's head...
"Join Adam Buxton as he takes a trip through some of the most brilliant, compelling, thought-proving and weird music videos in the world today. Adam will present these famous and not so famous videos, and examine the various comments they prompt and provoke among the esteemed members of the online community."
Buxton himself describes the format as follows: "I tell people that BUG is like going round to a friend's house and having them open up their laptop and show you interesting and amusing things they've found or made, except not as tedious and shit as that sounds."
Sky commissioner Antonia Hurford-Jones says: "Having the chance to spend some time inside the wonderful world that is Adam Buxton's head, as he showcases amazing videos, and gives voice to the hilarious online community, is an opportunity not to be missed for Sky Atlantic HD."
Executive Producer Clive Tulloh adds: "Burning Bright are incredibly excited by Adam Buxton's BUG as it is a brilliant mixture of comedy, music and the weird world of internet chat - all seen through the eyes of one of the UK's most original comedians – the great Mr Buxton."
The recording dates at The Riverside Studios (London) are Good Friday (6th April), followed by Thursday and Fridays from the 26th April. To apply for free tickets to be in the audience click here
Adam Buxton's BUG will form part of Sky Atlantic HD's autumn schedule.
Below is footage from a 2011 Bug show in which Buxton follows the comments on a video posted on YouTube called Apple Mac Music Video as they get progressively more angry, nerdy and petty:
This story was updated on Friday 30th March to indicate the show would be on Sky Atlantic HD, and to include quotes from the Sky executives.
Share this page