Stewart Lee's Comedy Vehicle to return for two more series
Stewart Lee's Comedy Vehicle to return for two more series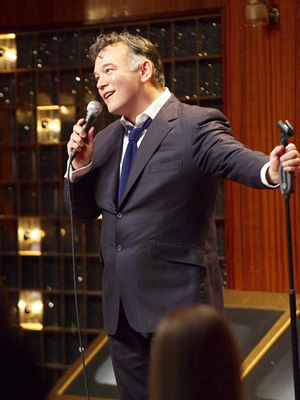 Stewart Lee's Comedy Vehicle, the BBC Two stand-up show written by and starring Stewart Lee is to return to the channel for two more series.
The news was revealed today when producer Armando Iannucci responded to a question from a fan on Twitter, asking if it was coming back. He said: "Yes! The BBC have commissioned 2 more series of Stewart Lee's Comedy Vehicle."
Series 3 will not be broadcast until 2014, with Series 4 currently planned in 2016.
The first series of the stand-up show was broadcast in 2009, and picked up critical praise for its different approach to presenting stand-up on TV, mixing illustrative sketches alongside Lee's unique brand of slow-paced hammer-it-home stand-up.
Entertainment industry newspaper The Stage said at the time: "Lee's comedy is something of an acquired taste ranging from the esoteric, through the inventive to the positively bizarre, but he is never less than original and frequently inspired," whilst The Times called it "the comic highlight of the week".
Despite its critical acclaim the series managed only modest ratings, averaging around the 1 million mark; more than a third down on the average audience figure for its 10pm timeslot.
However, the broadly positive reception ensured a recommission, and a second series was broadcast in a later slot from May 2011. It followed a similar format to the first series, but largely scrapped the interlinking sketches. Again, the show performed relatively poorly, attracting fewer than 400,000 viewers to its first 11:20pm transmission.
For his work on the show, Lee was named Best Male TV Comic at the British Comedy Awards 2011 in December, with the series beating mainstream entertainment programmes Chatty Man, An Idiot Abroad and Harry Hill's TV Burp to take the Best Comedy Entertainment Show award.
Although not officially confirmed by the BBC at the time of writing, the commissioning of not one but two further series of the Vehicle illustrates the faith that the broadcaster has in Lee and the format, and the worth the corporation is attempting to put on different, interesting and inventive comedy rather than merely the crowd-pleasing.
Fans may be intrigued to see if the third series will see further changes to the format, or indeed to Lee's stand-up style. In an interview with an Irish newspaper in January, the stand-up star expressed frustration that younger comics were copying his distinctive style of delivery.
Talking about his 'trademarks' whilst promoting new live show Carpet Remnant World, Lee said: "There are 19-year-olds doing them. Things like long silences, lots of repetition that slightly changes over a 20-minute bit, stating very cruel things, very bluntly as if they were facts, getting off the stage and performing from unlit, unamplified areas of darkness, all those things I've done a lot of - I haven't gone near them in this show because I've seen little kids doing them in open-spot nights. It's kind of like a LEGO version of you. Reduced. Oh dear. It's a bit annoying. I sort of think, that's what I do, and I've got two kids and I'm 43 years old and I'd quite like to be able to eek this out until I die, and yet you're making what I do a cliche and you haven't even got any dependants, you horrible, selfish child."
Carpet Remnant World is touring the UK until July, before being taken to The Assembly Rooms for the Edinburgh Fringe in August.
In the following clip from Series 2, Stewart Lee and Nick Pynn perform a song about Russell Brand's wedding:
Here, Armando Iannucci asks Stewart Lee to define the series:
UPDATE: The BBC have now formally confirmed the recommissioning of Stewart Lee's Comedy Vehicle, with Series 3 and 4, each six episodes in length, planned for broadcast in 2014 and 2015 respectively.
Comedy Commissioner Cheryl Taylor said in a statement: "Stewart has established himself as one of the most respected and revered comedians on the circuit and we couldn't be more thrilled to confirm that he will be driving two more series of his Comedy Vehicle around BBC Two."
Mark Freeland, head of the BBC's in-house comedy department, which produces the show, added: "How brilliant that BBC Two has given Stewart Lee two more series. It's reward for a unique, perfectionist, hardworking, bit-scary comedy master and the wonderful team behind him. I'm standing by with my compliance forms."
Stewart Lee himself added the following: "I am delighted to be returning to BBC Two, TV's historic home of smart-ass comedy, for two more series, with the same multi-gong-grabbing team as before. I can't really believe this opportunity has been presented to me, and I certainly wasn't expecting it.
"I hope to repay this unprecedented act of blind faith by donning my too-tight jacket to hone another six hours of densely irritating stand-up over the next four years, spliced with aggressive Armando grillings and obtuse filmic codas.
"It will be amazing to be able to move forward and experiment in this unprecedentedly secure position. Thanks to everyone out there who watched the series, wrote about them, or lobbied for their return. I will make you proud. Peace! I'm outta here! You shoulda killed me last year!"
Share this page