BBC Three launch new comedy dating show
BBC Three launch new comedy dating show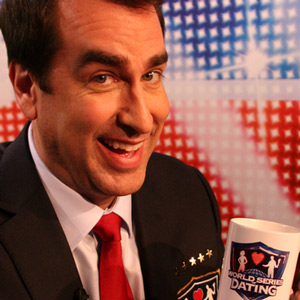 BBC Three has announced the commissioning of its latest comedy series - a comedy/reality hybrid based around the tricky world of dating.
World Series Of Dating is described as turning dating into an American-style competitive sport, "with all of the sporting conventions that go with it - overblown graphics, music and scripted comedy analysis".
An 8-part series, due to begin broadcasting next month, has been filming at Pacific Quay studios in Glasgow, and is hosted by American comedian Rob Riggle in the guise of American commentator and "legendary dater" Doyle MacManus. He is joined by Bentley Kalu in a referee role, Tom Price as a British commentator, and Thaila Zucchi as a 'touchline reporter'.
The BBC describe the format, which aims to match up real life men and women as dating couples, thus: "Women sit in 'The Date Zone' waiting for their first guy to appear. From the moment the single men walk into the zone the women can decide to buzz them out of the game for whatever reason they wish.
"A referee then discusses the foul with the girl and decides whether the young man gets a warning or is sent packing (to be replaced by a rival). Also appearing throughout the show are two commentators who discuss and reflect on the action as it happens with super-slow mo replays and many other sporting conventions."
At the end of the series, one man will officially be crowned as Britain's Greatest Living Dater.
World Series Of Dating comes on the back of Channel 4's popular sitcom Pete Versus Life. The comedy of embarrassment focusses on twenty-something Pete (Rafe Spall), a sports writer whose lack of tact and run of bad luck lead to failure in almost every situation. His actions are narrated by a pair of reporters (Simon Greenall and Ian Kirkby) as if his life were a sporting match.
Controversial but popular dating show Take Me Out, hosted by comic Patrick McGuinness, is also presently screening to audiences during ITV1's primetime Saturday evening schedules.
BBC Entertainment commissioner Alan Tyler said: "It's dating, it's sport, it's comedy and we are delighted to have such a 'prestigious' tournament showcased on BBC Three. It's a huge bonus to have Doyle MacManus and James Chetwynd Talbot on board to provide the kind of sensitive commentary that is a perfect companion to that tricky and unforgiving first date moment."
Executive producers Joff Powell and Simon Welton added: "Working with a contemporary comedy icon like Rob Riggle is an absolute pleasure and we wrote the role with him in mind. Using a cross-genre combination, we have been able to utilise our reality and comedy experience to create a unique entity. BBC Three is the perfect home to celebrate an awkward right of passage we all go through, with humour and fun."
The following is a trailer for the recent second series of Pete Versus Life.
Share this page