Musical comedy duo The Rubberbandits get Channel 4 pilot
Musical comedy duo The Rubberbandits get Channel 4 pilot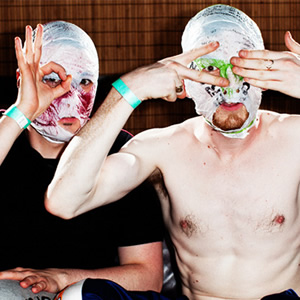 Channel 4 has ordered a musical sitcom pilot starring the Irish comedy outfit Rubberbandits.
The commission comes off of the back of the duo's success as part Channel 4's new online talent platform, Comedy Blaps. The musical comedians created three videos for the Blaps strand, with one attracting over 800,000 hits on YouTube.
Rubberbandits, a 30 minute TV pilot, is the first commission to come from Comedy Blaps, an initiative that launched in November 2011 with the task of helping to develop new programme ideas for the channel and discover the 'next big things' in comedy.
Rubberbandits consists of Bob McGlynn, aka Mr Chrome, and Dave Chambers, who goes under the name Blindboy Boat Club. The duo, who come from Limerick in Ireland, always perform with plastic bags on their heads. McGlynn and Chambers write and perform various satirical songs, some of which are adult-themed with controversial messages. As well as a strong online following, an iTunes album and appearances on MTV Iggy, the duo play gigs live around the world: in March they are booked to appear at Canadian Music Week.
Channel 4's Fiona McDermott says: "We always hoped Comedy Blaps would be the perfect stepping stone for new talent to hone their craft and move up the ladder and that's exactly what's happened with the totally brilliant Rubberbandits. We can't wait for the pilot, if nothing else we're just thrilled we've given them the chance to showcase even more supermarket carrier bags on their faces."
Executive Producer Billy McGrath adds: "Sideline Productions is looking forward once again to working with the Channel 4 comedy team to bring this exciting Irish talent on to a higher level. We all share the strong belief there is something very unique and special going on with The Rubberbandits."
Here is the first episode of the Rubberbandits' Comedy Blaps series, which includes their song in which they look for a black man to join their gang:
Rubberbandits will be broadcast later this year as part of Channel 4's new 4funnies pilot strand.
Submissions are now being accepted for the Summer season of Comedy Blaps, with the closing date for all entries being Friday 2nd March. Channel 4 Multiplatform Commissioning Editor Jody Smith says: "We're putting even more emphasis on Blaps in 2012, with plans to commission more than last year, with a season in the summer and again in the autumn. If you're a comedy producer, get cracking and send your pitch in." More details
Share this page