Ripping Yarns charity Hopathon to be held
Ripping Yarns charity Hopathon to be held
Network DVD, one of Britain's most prolific and successful distributors of archive television DVDs, will hold a 'Hopathon' in aid of charity next month.
The event, to be held on Saturday 3rd March 2012, will mark the re-release of the Michael Palin and Terry Jones spoof Boys Own-style anthology series Ripping Yarns. The complete DVD collection of the series will be released two days later.
Both Palin and Jones will attend the event, at which Network hope to break two Guinness World Records in aid of charity: for largest group 400 metre hop; and 400 metre relay hop.
Network's Hopathon is inspired by Tomkinson's Schooldays (pictured, right), the pilot episode for Ripping Yarns, in which the boys of Graybridge School must endure a 30 mile hop.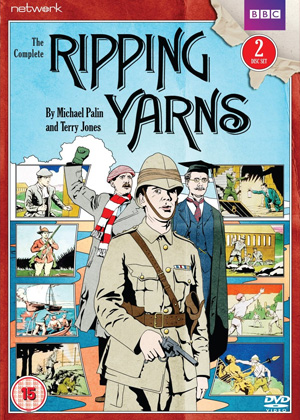 Michael Palin and Terry Jones will award winning team in each Hopathon event with a £500 cheque for a charity of their choice.
Network say of the event: "Thankfully, Messieurs Palin and Jones have rejected the idea of pitting members of the public in the much-featured grizzly bear fight (still compulsory for some boys at Graybridge), or a St Tagder's Day ceremony (where students are nailed to the school walls). However, selected participants will be provided with Team Graybridge and Team St Anthony's t-shirts plus a commemorative certificate for their commendable sporting efforts."
At least 250 people - in good health - are required to take part in the event at Hampstead Heath Athletics Track, and willing participants are encouraged to apply through Network's Facebook page
The Ripping Yarns complete collection was previously released on DVD in 2004. Tomkinson's Schooldays was first broadcast on BBC2 on Wednesday 7th January 1976.
Below is a trailer:
Share this page