Disabled comedy ordered by Channel 4
Disabled comedy ordered by Channel 4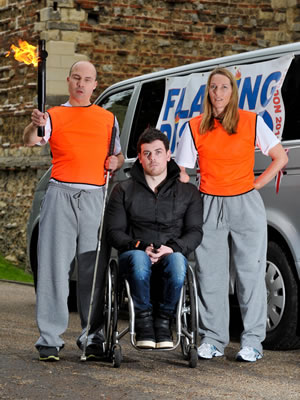 Channel 4 has announced their latest commission from the Comedy Lab pilot strand - I'm Spazticus, which was broadcast in 2005.
The 5-part series, expected to tie in with the channel's coverage of the London Paralympic Games later this year, will be written by and star disabled people. The pilot was broadcast on 17th May 2005.
Jamie O'Leary, who produced, wrote and directed the original pilot, will act as executive producer for I'm Spazticus, which he describes as "naughty and risqué".
In a style similar to that of Dom Joly's Trigger Happy TV, the show will mix hidden camera pranks and stunts in an attempt to highlight and explore the public's attitudes to disabled people.
Characters in the pilot included a porn-loving dwarf who recruits tall members of the public to hand him magazines from the top shelf; an overtly-PC wheelchair user who tries to get record companies to change the lyrics of famous songs; and a one-armed man who surprises people with his artificial limb.
Jamie O'Leary says: "I'm Spazticus uses the world of comedy to explore the world of disability; employing disabled writers and a cast of disabled on-screen talent to play pranks on an unsuspecting general public, whilst this far from revenge TV we hope it's both barrier and ground breaking - it will never be worthy and box-ticking but hopefully funny and very funny."
Nerys Evans, Channel 4's comedy commissioner, adds: "We're very excited to be doing a show that first and foremost will be very funny and also showcases some of the very best disabled talent both on screen and behind the camera."
A Zeitgeist Television production, the 2005 pilot won a Superfest International Disability Award.
Here's the first part of the original Comedy Lab pilot:
Share this page