Comedy Central orders Threesome Series 2
Comedy Central orders Threesome Series 2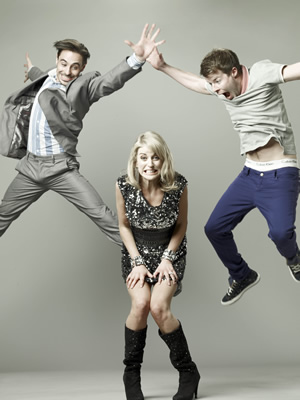 Comedy Central has ordered a second series of Threesome, its first home-grown sitcom.
The British comedy follows the adventures of three inseparable friends on the verge of turning thirty. The trio are Alice, her boyfriend Mitch, and their gay friend Richie. The title 'Threesome' gives a clue as to the show's central premise: after a particularly wild night of partying, the friends end up in bed together - resulting in an unplanned pregnancy. Unconventionally, rather than splitting up, they decide to raise the baby with 3 parents.
Comedy Central commissioner Pete Thornton has ordered a new seven part series following strong ratings for the first run. The programme, which launched in October last year, attracted over 200,000 viewers an episode, making it the digital channel's second most watched show, just behind American import Two And A Half Men.
Series 2 will follow the further adventures of Alice, Mitch, Richie and their new baby. Doctor Who writer Tom MacRae, who created Threesome, took to Twitter yesterday to say "I'm thrilled to announce a brand shiny new series of #comedy3some will be on your screens later this year! Alice, Mitch, Richie AND Lily!".
The Tweet was quickly removed - presumably because Comedy Central hadn't officially announced the news - however the new episode order has since been confirmed by Broadcast magazine and production company Big Talk.
Comedy Central boss Jill Offman told the trade newspaper: "We're delighted with the way Series 1 performed straight out of the box and are pleased to be able to offer this talented team the chance to get together for a further seven episodes."
Series 1 is currently being repeated on Comedy Central on Tuesday nights at 10pm. Here is a clip from the first series showing the drink-and-drug fuelled night that sparked the pregnancy:
Share this page