Harry Hill in talks to move to Channel 4
Harry Hill in talks to move to Channel 4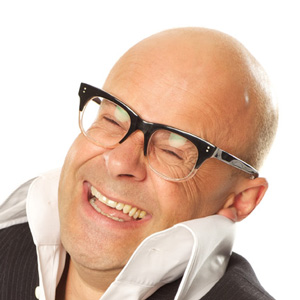 Surrealist comic and TV Burp host Harry Hill is in talks and close to signing a deal with Channel 4, according to the Daily Mirror.
The move could involve Hill - real name Matthew Hall - making a brand new sketch show for the channel, and possibly a movie for cinema release.
The tabloid newspaper reports a 'source' close to the comic saying today: "Harry has lots of ideas and fancies doing something different for a while, especially his own film. That doesn't really fit in with ITV's plans for him so he is interested in doing a deal with Channel 4."
It has been widely reported that the comic is "sick" of TV Burp, and that watching hours of television to compile each weekly episode of the ITV1 ratings hit has left him feeling suicidal.
Hill's refusal to sign up for more series of TV Burp past the end of his current contract with ITV will see the show draw to a close after the 12th series, which begins tonight. The consequent end of the hit series is widely believed to have caused Hill to fall out with and leave his long term manager and TV Burp Executive Producer Jon Thoday, of production and management company Avalon.
The Mirror's source continued: "Channel 4 have offered Harry big budgets and a lot of creative freedom to make what he wants, and that's what attracts him to the offer more than the pay cheque."
"He has been earning millions with ITV for years so it is not all about the money. For Harry it's all about doing projects he loves so it seems almost certain he'll head to Channel 4. And all his fans would love to see a Harry Hill movie."
Years before the 2001 debut of Harry Hill's TV Burp, the NHS doctor found fame with the 1993 Radio 4 series Harry Hill's Fruit Corner. The following year he made his TV debut in BBC2 series Harry Hill's Fruit Fancies, before moving to Channel 4 in the Avalon-produced sketch and stand-up series Harry Hill, which ran from May 1997 to April 2000.
Hill's friend and fellow Avalon act Al Murray - better known as the Pub Landlord - was also a regular fixture in both series.
Below is the second episode of Harry's Fruit Fancies. The black and white series was dialogue free, and its style will not be unfamiliar to anyone who saw the comic's Little Cracker short film on Sky1 last year.
Share this page