Monty Python to reunite for sci-fi film Absolutely Anything
Monty Python to reunite for sci-fi film Absolutely Anything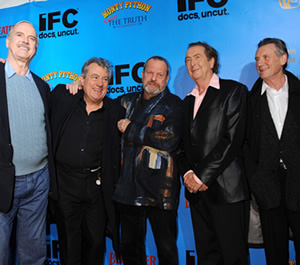 Trade newspaper Variety has confirmed today that the surviving members of Monty Python's Flying Circus are due to reunite for a science fiction film.
Whilst not strictly a Monty Python project, Absolutely Anything - a new farcical film mixing CGI and live action - will feature Terry Jones, John Cleese, Terry Gilliam and Michael Palin. Eric Idle has yet to sign up to the project, but Jones - who is directing the film - said he hoped Idle will agree to be added to the cast list shortly.
The movie is set to be filmed in the UK this spring, with the Pythons voicing the key roles of aliens who supply a human, as an experiment to see what he'll do, with the powers to allow him to do "absolutely anything". The result is the human makes a total mess of things. The film will also feature a talking dog called Dennis, which will be voiced by American comedy star Robin Williams.
Gavin Scott, the writer behind films like Small Soilders and The Borrowers, has been working with Terry Jones on the script for Absolutely Anything for over 20 years. "It's not a Monty Python picture, but it certainly has that sensibility," Jones told Variety.
The project is being overseen by Mike Medavoy, an experienced Hollywood executive who has worked with the Pythons before. He says: "Terry and Gavin have crafted a classic farce. Like all projects originated by any of the Monty Python guys, Absolutely Anything delightfully defies a logline."
If Eric Idle does sign up to take part in the production, it'll be the first time all five remaining members of the iconic comedy troupe have performed together since the Aspen Comedy Festival in 1998. The five comedy stars did however meet publicly in 2009 to promote the Python documentary series Monty Python: Almost The Truth (pictured).
Last June it was announced that Jones, Cleese, Gilliam and Palin will provide voices on a forthcoming animated film based on the memoirs of Graham Chapman, the sixth Python, who died in 1989. However, Idle is not involved in the project.
There has recently been an appearance of ill feeling between Idle and Cleese. In an interview last month, Eric Idle explained how he had dropped the voice of John Cleese from his touring musical production Spamalot, saying: "I fired John Cleese - surgically removed him. It wasn't mean - he's had millions of dollars from it. He charges people a fortune for using his voice."
He added: "I don't feel guilty. I gave him a million dollars. Has he sent me a Christmas card? No, he's too busy on the road." This caused Cleese, who has been touring to earn the millions required to pay his ex-wife in their divorce settlement, to hit back via Twitter: "I see Yoko Idle's been moaning (again), about the royalties he had to pay the other Pythons for Spamalot. Apparently he paid me 'millions'. Actual rough figures last time we checked - Yoko Idle $13m, Michael Palin $1.1m, the others just under a million each."
Share this page