National TV Awards 2012 comedy winners
National TV Awards 2012 comedy winners
Celebrity Juice, Outnumbered, Michael McIntyre's Comedy Roadshow and Alan Carr: Chatty Man were amongst the programmes picking up prizes at the National Television Awards 2012 last night, whilst David Walliams and Jonathan Ross were honoured with special awards.
The awards, the results of which are decided via a public vote, were announced on Wednesday night at the O2 Arena.
---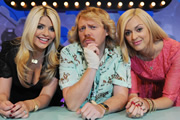 ITV2 panel show Celebrity Juice beat its more established terrestrial rivals Have I Got News For You, Mock The Week and QI to claim the prize in the panel show category.
Leigh Francis, decked out in a gold suit in character as Keith Lemon, joked "Thanks to my dad Billy Ocean", before singing the chorus of a couple of the singer's hits. He added "I'd like to say thanks to all the people on Twitter who I've been pestering all week to vote for us."
---
Ant & Dec were jointly named best Entertainment Presenter for an impressive 11th year in a row. The duo were up against Keith Lemon, Michael McIntyre and NTA and X Factor host Dermot O'Leary in the category. Declan said: "We've been lucky enough to win a couple of these over the years and I tell you what, every time sitting there and hearing your name be read out it feels like the first time we've ever won it again. We're so honoured and humbled to have got your votes for this. Thank you to everyone who voted for us!"
---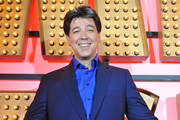 Michael McIntyre's Comedy Roadshow polled more votes than TV Burp, magician Dynamo and dating show Take Me Out to come out top of the Entertainment Programme category. Upon picking up the award, the stand-up star said: "I was late... I've only just walked in and I've won a prize. I never win a prize! I'm so so grateful, thank you so much. I want to thank all the comedians who appeared in the show." He added: "I'm still completely in shock."
---
The fiercely contested talk show category saw Alan Carr: Chatty Man triumph over The Graham Norton Show, The Jonathan Ross Show and Loose Women. A very excited Alan Carr jumped onto the stage to accept the award. "I weren't expecting this, I wasn't! Thank you so much" he shouted, still bouncing around. He also joked: "I never win anything... I was ready to do my 'bitter clap'!"
---
Miranda, Outnumbered and last year's winner Benidorm were in the running for the Situation Comedy award, with viewers picking Outnumbered. The cast were visibly surprised, as Hugh Dennis confirmed in his speech: "What a fantastic surprise. I don't think any of us expected that at all. Thank you so much!"
---
Also on the night, David Walliams was presented with the Landmark Award for "the single act of super-human endeavour" of swimming the River Thames for charity. After a long standing ovation, the Little Britain star said "All it was was showing off". He also reflected: "It was the worst week of my life because I had to swim 140 miles, and it was the best week of my life because you all came out and supported me, and most importantly donated your money to Sport Relief... so thank you!" He finished his speech by joking, "I've got a bit of an exclusive - I was talking to Alan Carr earlier and he said he's going to do it this year in a thong... so something to look out for!"
---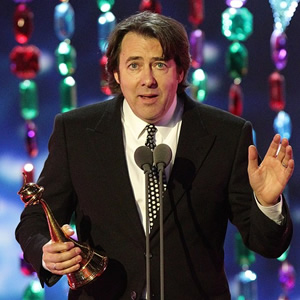 The biggest award of the night was saved for Jonathan Ross, who was handed the Special Recognition Award for 25 years of success on television. Bruce Forsyth, who provided a rambling introduction to Ross, said: "I can't think of anyone quicker with these razor sharp ad libs of his. I don't know why they've asked me to do this - he's said some terrible things about me!". He also joked: "Jonathan has been in showbiz for 25 years - well, 24 really - as he did have that year off. What else can I say about him?: Rebellious, unruly... just two of the many words he can't pronounce."
Following a montage of his TV work, from early hit The Last Resort to his recent film documentaries and current ITV chat show, Ross took to the stage. "I'm humbled and so grateful to accept it. I'm amazed - like so many of you are - that I'm still working! I've worked for all the channels over the years. Thanks to all those who have stood by me; and the ones who didn't... I understand." He finished with a dedication to his wife, saying "25 years ago I started on TV, but 25 years ago I also met the young girl who I married. Everything I've enjoyed in life, I've enjoyed because of her."
Share this page