Channel 4 order Anna Crilly and Katy Wix sketch show
Channel 4 order Anna Crilly and Katy Wix sketch show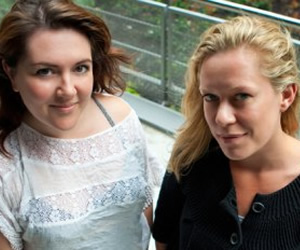 Channel 4 has commissioned a full series of Anna & Katy's Television Programme, a sketch show starring Anna Crilly and Katy Wix.
The commission follows the pilot broadcast last September which was created by the duo for E4's Comedy Lab strand. Then titled Anna & Katy, the show combined "unique comedy creations with celebrity cameos and daft TV pastiches", with sketches including spoof daytime TV show Congratulation!, and Eamonn Holmes' latest game show Pointer. Lee Mack also guest starred in the pilot as a long-haired doctor with a comic German accent.
The pilot was well received by network bosses, who have now ordered a six-part series to go out on Channel 4 later in the year. C4's Nerys Evans says: "We can't wait to work with Anna and Katy on their wonderful new series for Channel 4; they're so funny you'll think they're men."
Both of the stars already have a long list of TV credits to their names. Anna Crilly is perhaps best known for playing cleaner Magda in Lead Balloon, but has also starred in sketch shows such as CBBC's Sorry, I've Got No Head and its sitcom spin-off Pixelface. Meanwhile Katy Wix, who has appeared in many of Channel 4's pilots over the last 6 months (including The Fun Police, Coma Girl and Felix & Murdo), will be familiar to many as Tim Vine's dim girlfriend Daisy in BBC One sitcom Not Going Out.
The double-act say: "We are beyond chuffed to get a full series with Channel 4. We'll aim not to balls it up. Thank you."
Meanwhile producer Jon Petrie, from production company Roughcut TV, adds: "We can't wait to make lots of joyful, funny nonsense with Anna & Katy."
Channel 4 also confirmed today the scheduling of some of its new E4 comedy series. Following the end of Noel Fielding's Luxury Comedy, which starts on Thursday, will be new sketch show Cardinal Burns, with the sitcom from musical YouTube stars The Midnight Beast following in April.
Shane Allen, Channel 4's Head of Comedy, comments: "Right from the start of 2012 we're delivering back to back series with daring and hugely distinct comedy voices as an anti-dote to the safe, broad comedy drama you might find elsewhere. Channel 4 is the place to take risks and give opportunities to comedy's mavericks and lunatics. Katy & Anna are both and we're so thrilled they wanted to make their break with us".
Here is a clip from the pilot episode of Anna & Katy:
The full pilot can be watched on 4oD
Share this page