Stella episode 3 pulled due to technical hitch
Stella episode 3 pulled due to technical hitch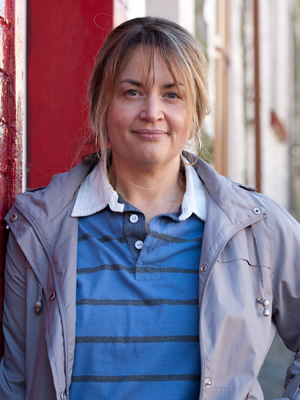 Ruth Jones's new comedy drama Stella, which broadcasts on Friday nights on Sky1, was pulled from the channel this evening after technical problems.
After broadcasting with no sound for 40 minutes, the Welsh valleys set comedy was replaced with a repeat episode of The Simpsons.
Channel boss Stuart Murphy, a former controller of BBC Three, took to Twitter to apologise. He stated: "I'm sorry everyone. The tape is damaged so we are running the Simpsons while we try to fix it and will try to re start Stella at 10."
He later added: "For those who are asking, we have been technically unable to put a caption on screen apologising, which is why I am tweeting. As the boss of Sky1 I just want to really really apologise once more. This has never happened to us. I am just so incredibly sorry."
Attempts to rectify the technical problems evidently failed, as the scheduled An Idiot Abroad repeat was broadcast, and Murphy announced the episode will be shown tomorrow.
The channel will be pulling their Saturday night movie for tomorrow, 21st January, and showing tonight's intended episode of Stella in its place. The 9pm film was due to be Robert De Niro and Cuba Gooding Jr.'s Navy drama Men Of Honour.
Thursday night's Sky1 repeat of Stella will be unaffected, as will a broadcast scheduled for sibling station Sky2 at 9pm this Sunday evening.
Murphy stated that the channel was "mortified" by the fault, and added that it had only affected standard definition broadcasts, and not the premium Sky1 HD variant service.
The following preview clip gives a taster of the troubled episode.
Share this page