BBC axes puppet sitcom Mongrels
BBC axes puppet sitcom Mongrels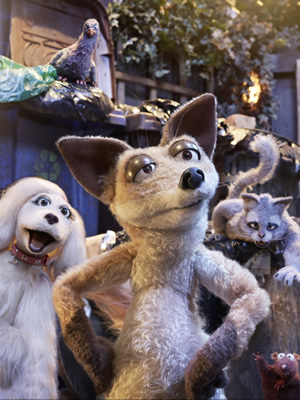 Mongrels, BBC Three's sitcom about a group of animals living behind a London pub, has been axed by the corporation.
Dan Tetsell, one of the show's writers and the voice of impressionable feline Marion, revealed on Twitter this afternoon that he had hoped that a third series of the sitcom would be ordered, but the BBC had declined. He added "we've all been sacked now".
The programme, which used a host of intricate puppets to portray the central characters, was created by Adam Miller, and positioned itself as a foul-mouthed, animal-centric equivalent to the American cartoon sitcom Family Guy, including cut-away scenes, flashbacks, musical numbers, cameo appearances and often absurd humour.
Miller has posted a message on the internet saying: "Mongrels friends, it is my unbearably sad duty to announce that we will not be returning for a third series on BBC Three, a decision that has been made based on the fact that apparently you need more than two people watching a programme to make it successful. Crazy talk. I'd like to take this opportunity to thank everyone at BBC Comedy, BBC Three and BBC Worldwide who have supported us so strongly over the years, and helped us put our silly puppet show on the digital screens of the nation."
He added: "I'd also like to thank, from the bottom of my heart, all the writers, cast, crew and support team who have made a horribly challenging show such an utter joy to make. This news could not be less of a reflection on your brilliant work. Most of all I'd like to thank those of you that loved watching Mongrels as much as we loved making it. It's wonderfully reassuring to think that we weren't mad after all, and that what we find funny, other people do too."
Miller concluded with the message: "I'd like to believe that there's room on television for a little show like ours; one that's not just another sitcom, one that tries to do things a bit differently and that tries to push a few boundaries here and there. Who knows, maybe we'll find a that room in the future. I hope it has a minibar. Thank you for watching. Both of you."
The first series of Mongrels, which was transmitted between June and August 2010, achieved only moderate initial audience figures but was generally well received by critics and soon became more popular with viewers. A second series in November and December of 2011 also achieved respectable ratings, but the series never managed to capture the public's imagination in the way that BBC Three's marketing suggested they hoped it would.
When first launched, Mongrels faced claims of plagiarism from the creative team behind Pets, a 2001 Channel 4 series that also used puppetry to tell the tales of a small group of badly-behaved animals.
Mongrels' cancellation means it joins a long list of comedies to have been axed by channel controller Zai Bennett since taking up the role early in 2011. Other shows to have been cancelled by Bennett, as he strives to commission more new writing talent, include teen sitcom Coming Of Age, How Not To Live Your Life, the long-running ratings winner Two Pints Of Lager And A Packet Of Crisps, and office-based comedy Lunch Monkeys.
Showcasing the programme's trademark black, somewhat distasteful humour, in the following clip a depressed chimp sings about wanting to murder Justin Bieber:
Share this page