Derek Jacobi and Anne Reid to star in romantic comedy drama
Derek Jacobi and Anne Reid to star in romantic comedy drama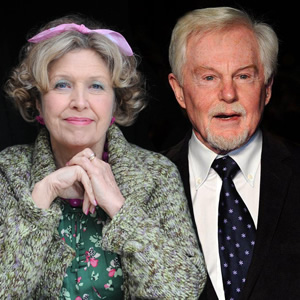 Derek Jacobi and Anne Reid are set to star in a new prime-time BBC One romantic comedy drama series called Antony And Cleopatra.
Jacobi, who received a knighthood in 1994 for acting, and is known for work including The Kings Speech, Cadfael and I, Claudius; and Reid, who has worked on comedy shows from The Benny Hill Show in 1957, up to the recent ITV adaptation of Ladies Of Letters; will play would-be childhood sweethearts Alan and Celia in the six-part series.
Antony And Cleopatra follows Alan and Celia as they are reunited after 60 years. As their lives collide for a second time, Alan and Celia lament over what might have been and "take viewers on a life-affirming journey of what can still happen."
The series has been written by Sally Wainwright, whose worked on Emmerdale in the 70s and has since gone on to right series such as At Home with the Braithwaites, The Amazing Mrs Pritchard, Unforgiven and Scott & Bailey; and will be directed by Euros Lyn, whose recent work includes smash hit BBC drama Sherlock, and Charlie Brooker's dark satire series Black Mirror.
Antony And Cleopatra sees Alan and Celia unexpectedly but instantly reignite the feelings they'd had as teenagers. In what is billed as an "uplifting tale", the path of true love is anything but smooth however, and the pair are surprised to find it's their own families who create some rather bumpy obstacles to their romance.
Sarah Lancashire (Pat And Margaret, Chambers) plays Celia's career-focused daughter Caroline, whilst Nicola Walker (Spooks; Being Human) is Alan's farm-working daughter Gillian. The cast list also includes Tony Gardner (Fresh Meat, Lead Balloon) as Caroline's adulterous husband, with Ronni Ancona (The Big Impression, The Sketch Show) as his alcoholic mistress.
Writer Sally Wainwright says: "I can't remember being this excited about writing a TV series. It's everything good; uplifting, life-affirming, funny. It's a joy to write. I'm bowled over by the stunning cast we've assembled."
Executive producer Nicola Shindler adds: "I am delighted to be working with Sally again on such glorious scripts and with such a great cast. Antony And Cleopatra is funny and sharp and we have assembled a cast that will bring it to life with an energy and real joy. This is going to look and feel like a timeless love story in a very modern setting."
Share this page