Blackadder duo reunite for new comedy
Blackadder duo reunite for new comedy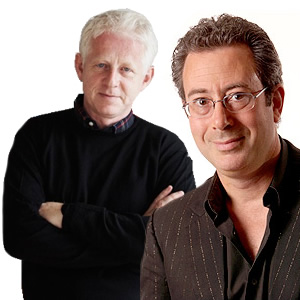 The writers of Blackadder have revealed that they have begun writing together again - although not on Blackadder.
Richard Curtis and Ben Elton last collaborated on the Millennium Dome special Blackadder: Back & Forth in 2000.
Speaking to The Telegraph's gossip hack Tim Walker, Elton said: "I've just started working on a new project with Richard. It's been a long time since we worked together so it is fun."
Blackadder was created and originally written by Rowan Atkinson and Richard Curtis. However, after a lukewarm public reception to the first series, Ben Elton was brought in to give the sitcom a different flavour. Its last series was broadcast in 1989, but a small handful of special episodes culminated in the Millennium special.
In the 22 years since, Curtis has etched out a successful film writing and directing career, with titles such as Bridget Jones's Diary and Love Actually. Elton, meanwhile, has co-written the books behind musicals such as Phantom Of The Opera sequel Love Never Dies, and made a number of failed attempts to return to TV satire.
Rumours of a fifth series of Blackadder have persisted throughout this period, with settings ranging from pre-history to the 'Swinging Sixties' mooted. However, Elton said: "It is so lovely that everyone wants it back that it's almost a shame to do it and ruin that."
He added: "The new stuff will be original, but I can't reveal anymore than that."
Share this page