BBC postpone QI episode over Clarkson controversy
BBC postpone QI episode over Clarkson controversy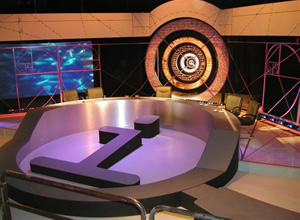 The BBC have pulled tonight's new episode of QI from the schedules, because it features Jeremy Clarkson as one of the guests.
The schedule change follows in the wake of a comment made by the Top Gear presenter on early evening magazine programme The One Show nine days ago. Clarkson caused outrage when he suggested on the BBC One programme that he would like to see striking public sector workers shot.
Although the comment was said in jest - in the context of the BBC having to reflect both sides of any political argument - more than 30,000 people have taken his words at face value and complained to TV watchdog Ofcom.
It is understood the episode has been postponed to avoid putting Clarkson in the spotlight until the furore over his comments has further subsided. A source told MediaGuardian: "It's not to do with anything specific that Clarkson said on QI. It is more a case of the BBC not wanting to look as though it didn't care about the storm and putting Clarkson back on screen as if nothing had happened."
The episode - the fourteenth of the new ninth series - was recorded in the summer. It sees guests Jeremy Clarkson, Ross Noble and Dara O'Briain joining regulars Stephen Fry and Alan Davies to discuss topics based around the subject of 'idleness'.
The episode will now be put on the shelf, and is expected to be rescheduled at some point next year. In its place BBC Two will broadcast a repeat of the first episode from the current series. First shown in September, the programme features guests Jimmy Carr, Lee Mack and Sandi Toksvig discussing topics including the Mona Lisa painting and the life-span of a lobster.
Jeremy Clarkson has been a panellist on eight previous episodes of QI. The comic quiz, which has been running since 2003, has notched up over 100 episodes to date, and this is the first time a new episode of the show has been postponed by the BBC.
A BBC spokesperson says: "It is not unusual for the running order of a programme to change. The billed episode will be shown at a later date."
In 2008, following the 'Sachsgate scandal', an episode of Never Mind The Buzzcocks was shelved as it featured Russell Brand as a guest team captain. The episode was eventually broadcast in January 2011.
Here is a news report giving full context to Jeremy Clarkson's comments:
Share this page