Ricky Gervais working on retirement home comedy
Ricky Gervais working on retirement home comedy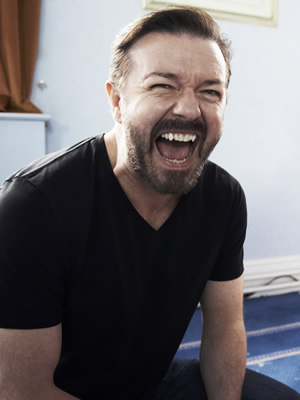 More details have been revealed about the next comedy project Ricky Gervais is working on.
As has been previously reported, The Office and Extras star is said to be developing a new sitcom called 'Derek' - thought to based around the character of Derek Noakes, whom the comedy star first portrayed in a short sketch 10 years ago, before The Office launched.
The Sun reports today that Derek will be set in a retirement home, and could potentially feature James Bond actor Sean Connery. The newspaper quotes an un-named source, saying: "They're filming a pilot in London. It's early days but it looks brilliant. Ricky is in charge of the project and plays a man called Derek, living in an old people's home, while Sean has been asked to play his elderly mate in the home. Ricky is keen to get it in the bag because his sitcom Life's Too Short hasn't been getting great viewing figures."
Although not officially confirmed, it is believed that Gervais is creating the show for Channel 4, working with Extras and Life's Too Short producer Charlie Hanson to create a pilot for the broadcaster.
Writing on his blog this week, Ricky Gervias has briefly talked about a pilot he has been filming with An Idiot Abroad star and long-time friend Karl Pilkington. Although the actor didn't reference whether this was or was not the pilot for Derek, a picture posted shows Pilkington wearing a wig and thick glasses to make him look older, and the comedian wrote online: "Had an amazing day filming with Karl and loads of lovely old people".
Gervais also posted: "It's an ensemble piece which includes Karl in his first real acting role. He's nervous, but he shouldn't be. He's great and I'm only bringing out what's already there, if you know what I mean." He later added: "Finished filming the little pilot with Karl today. We both had the best time ever. He really got a buzz out of acting. He was playing a complete weirdo div useless miserable bald-headed Manc twat. He nailed it."
An image posted online shows Karl with David Earl, who plays the character Brian Gittins on the live circuit, and has previously appeared in Gervais & Merchant's film Cemetery Junction.
Gervais posted on Twitter on Wednesday: "Couldn't get through a scene with David Earl being a letch and Karl as a celibate... 'I'm not bothered'. Everyone corpsing, every take."
The comedy, if it makes it to the screen, could prove to be controversial because in the old sketch, which can be seen below, Derek Noakes is portrayed as being mentally challenged. Earlier in the month Gervais caused much debate, and offended some, by repeatedly using the word 'mong' on Twitter.
Life's Too Short, written by Ricky Gervais and Stephen Merchant, is currently airing on BBC Two on Thursday nights, but is struggling in the ratings. Last night's episode, the third in the series, lost another 250,000 viewers, leaving the show with 1.25 million, a figure notably less than the 2.5 million who tuned in on week one, and less than the slot average of 1.8m. Poor reviews in the papers and the success of reality show I'm A Celebrity... Get Me Out Of Here! on ITV1 are said to be contributing factors in the ratings decline.
The third episode of Rev, which preceeded Life's Too Short, attracted 1.4 million, and Frank Skinner's Opinionated, which followed it, got 1.2 million. Elsewhere in the Thursday night schedules Russell Howard's Good News obtained 1.16m, and E4 sitcom PhoneShop took 212,300.
Ricky Gervais is now turning his attentions to The Golden Globes awards ceremony, which he will host for a third time in January. The comedian appears to be starting the writing process already, blogging: "Started writing the monologue for The Golden Globes over the weekend. Can't work out whether the adrenaline rush I got was excitement or fear. Adrenaline as you know is used for the 'fight or flight' mechanism."
The comedian also confirmed on his blog that he and Stephen Merchant were considering a Christmas special of their hit comic travel programme An Idiot Abroad for Sky in 2012, with Karl Pilkington joined by Life's Too Short star Warwick Davis on his travels. Gervais wrote: "Warwick popped down to set to have a little meeting, (it WAS a LITTLE meeting OK?) about my idea to send him and Karl round the world for An Idiot Abroad Christmas special next year. Karl wondered if there would be a world record in it, as no one else has ever cycled round with a dwarf in a basket before."
Share this page