Frankie Boyle World Order 5
Frankie Boyle's New World Order returning for Series 5
Filming for Frankie Boyle's New World Order is switching to Glasgow for the latest series
The topical discussion show returns to BBC Two next month
Boyle has also revealed his debut novel will be out next summer, and he's working on a new project in Ireland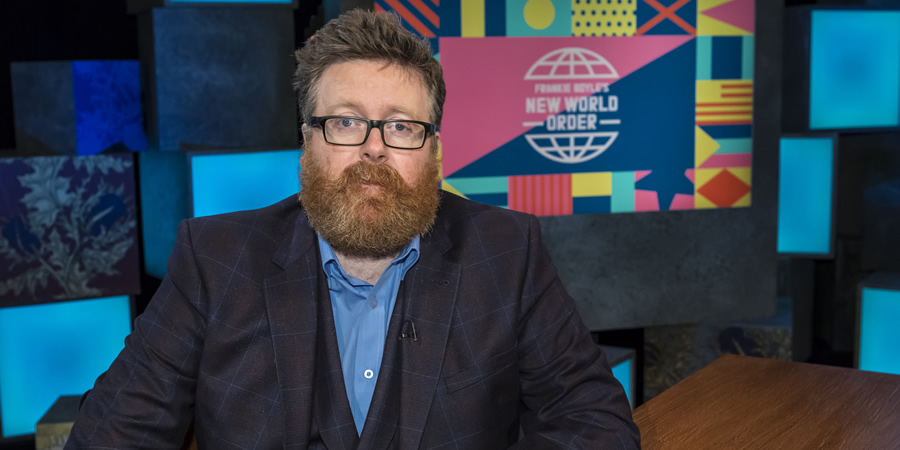 Frankie Boyle's New World Order is returning for a fifth series, but this time recording in the comedian's native Glasgow.
The stand-up has also shared more details of his long-gestating debut novel and teased a mystery project he's undertaking soon in Ireland.
Boyle has been developing material for New World Order at the Leicester Square Theatre in London and at the Glee and Stand comedy clubs in Glasgow.
And he took to Instagram to confirm that the current affairs discussion show would return to BBC Two at the end of next month, recording through October and November at Film City studios.
"We're filming it in Glasgow, in Govan. So that could be interesting" he added, laughing.
Panellists for the new series have yet to be confirmed. Regulars on the show, which was nominated for the best entertainment performance Bafta last year, have included Sara Pascoe, Miles Jupp, Kiri Pritchard-McLean, Katherine Ryan, Sophie Duker, Jamali Maddix and data journalist Mona Chalabi.
Meanwhile, Boyle has also disclosed that his first novel, Meantime, will be published next summer, and shared more details of the plot.
The comic first revealed he was writing the book in 2014, in a discussion with fellow comic Bruce Morton as part of Previously..., Scotland's History Festival.
"It's about a Valium addict trying to solve his friend's murder" he said. "He's really, really bad at it because he's high on Valium. He keeps forgetting all the clues and passing out for days of the investigation."
Boyle had previously said that "It's a kind of multicultural, postcolonial idea of Glasgow.
"There's a character who's a London woman with a Zambian background, there's a middle-aged guy from Edinburgh, there's an Indian lassie, there's a Scottish Chinese guy, all this kind of stuff."
Having already made BBC travelogues around Scotland and Russia, the comic, whose parents grew up in County Donegal, has spent a lot of time over the last couple of years touring Ireland, visiting their birthplaces.
And he teased a future project. "I'm also going to be doing something in Ireland, Dublin, but it's not stand-up" he said. "I'm quite excited about it."
---
For updates, click the button below.
Share this page