Derry Girls to end
Derry Girls stars reunite for "Oirish" spoof as Channel 4 sitcom ends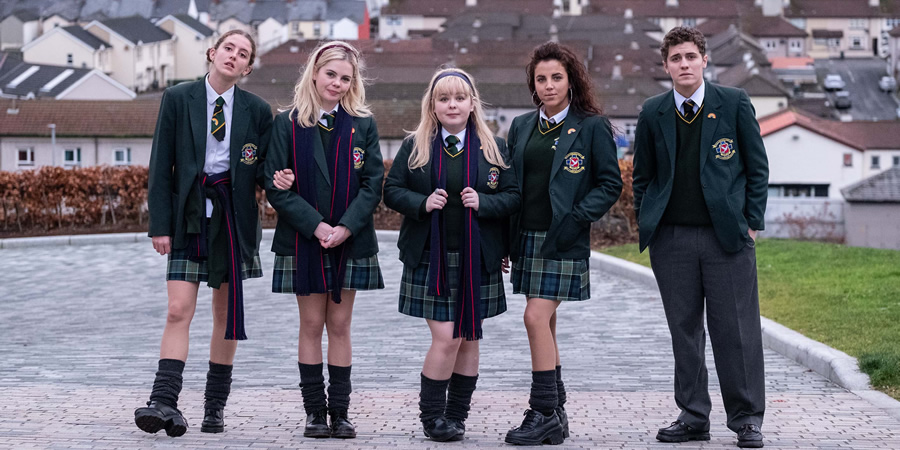 Derry Girls might be coming to an end. But its stars Nicola Coughlan and Louisa Harland are reuniting for a new comedy spoofing stage and screen 'Oirishness'.
Channel 4 have confirmed that Lisa McGee's hit sitcom about teenagers growing up in 1990s Northern Ireland will end with its third series, which begins its Covid-delayed filming shortly.
In the meantime though, Coughlan has written Whistle Through The Shamrocks, a new satire with playwright Camilla Whitehill. She also stars in the spoof alongside Harland, her Bridgerton co-star Ben Miller, Ghosts' Kiell Smith-Bynoe, an undisclosed "star of a major American sitcom" and other, still-to-be revealed famous names.
Shamrocks is a parody of "weird, Irish depressing plays", Coughlan told Diane Chorley, the drag alter-ego of David Selley, on her podcast Chatting With Chorley. She added that "we pretend [the title] is an old Irish phrase but we made it up."
Launching on the Acast podcast network in November, the six episode spoof is made by Hat Trick Productions, who also make Derry Girls.
Harland plays Mammy, "the classic Irish matriarch ... whether she be birthing a cow or cooking a lovely Irish stew for her 15-18 children her Irish eyes will always be smiling". Miller is Cromwell Dumblington, "the evil English Landlord who has come to Ireland to ruin lives and look good doing it" and Smith-Bynoe is Father Surrupio, "the village priest with a dark secret".
Whitehill, whose screen credits include writing for Dave's hospital sitcom Porters, met Coughlan at the Birmingham School of Acting 12 years ago, where the idea for Shamrocks was first conceived during their "improvalogues" about "the struggles".
"Drama school's a lot of monologues and monologues are very depressing by nature" Coughlan told Chorley. "And the Irish ones are often like, 'Daddy's out in the field now and the potatoes are rotting and the baby's crying, she's got consumption...
"And the way we're all quite simple ... 'ah sure, why the pub is the post office, the post office is the hospital ...'"
Citing Tom Cruise's much mocked Irish accent in Far And Away and more recently, the critically panned PS I Love You, starring Hilary Swank and Gerard Butler, as touchstones for their 'paddywhackery' parody, Whitehill pointed out: "Have you noticed in films about Ireland, no-one has a mobile phone even though it's now? Why is that?"
Even so, the pair deliberately avoided watching last year's Wild Mountain Thyme, widely mocked for the accents deployed by the likes of Emily Blunt and Christopher Walken, as they thought people would think Shamrocks was directly based upon it.
Coughlan added that Derry Girls' latest series, which also stars Saoirse-Monica Jackson, Jamie-Lee O'Donnell and Dylan Llewellyn, will be set in 1996. And Channel 4 have now confirmed that it will be the last.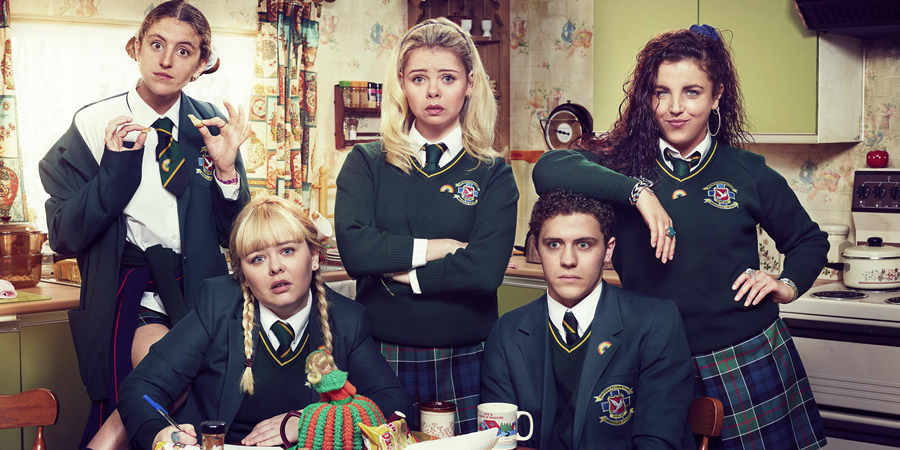 "It was always the plan to say goodbye after three series" writer and series creator Lisa McGee said. "Derry Girls is a coming of age story; following five ridiculous teenagers as they slowly y ... very slowly ... start to become adults, while around them the place they call home starts to change too and Northern Ireland enters a new more hopeful phase - which was a small, magical window of time.
"Derry Girls is a love letter to the place I come from and the people who shaped me. It has been an honour to write it and I will be forever proud of everything it's achieved. I'd like to thank the people of Derry and Northern Ireland for getting behind us.
"Thanks also to the team behind the series, the incredible Hat Trick Productions and a special thanks to Channel 4 - the channel I grew up watching; the channel that made me want to write comedy and the only channel that could have made our show."
McGee has previously hinted that she has plans for a spin-off movie about the further adventures of Erin, Clare, Orla, Michelle and James. And she cryptically added: "Who knows if Erin, Clare, Orla, Michelle and James will return in some other guise someday?
"But for now this is it for us and we're excited to start filming this series with our incredible cast and crew to hopefully take our loyal fans on one last adventure."
Fiona McDermott, Channel 4's head of comedy, said: "Every so often a special show comes along, that brings with it so much joy. Huge thanks to Lisa; for creating such instantly classic comedy characters through her beautiful writing, our incredible cast and the brilliant team at Hat Trick Productions.
"Channel 4 is so proud to be the home for Derry Girls and of the part we've played in putting it on the world stage. Although this might be the end for now, we promise fans won't be disappointed at what's in store. A fabulously funny and moving series, we can't wait to get filming."
---
For updates, click the button below.
Share this page