Toby Jones in Worzel Gummidge
Detectorists' Mackenzie Crook & Toby Jones reunite in Worzel Gummidge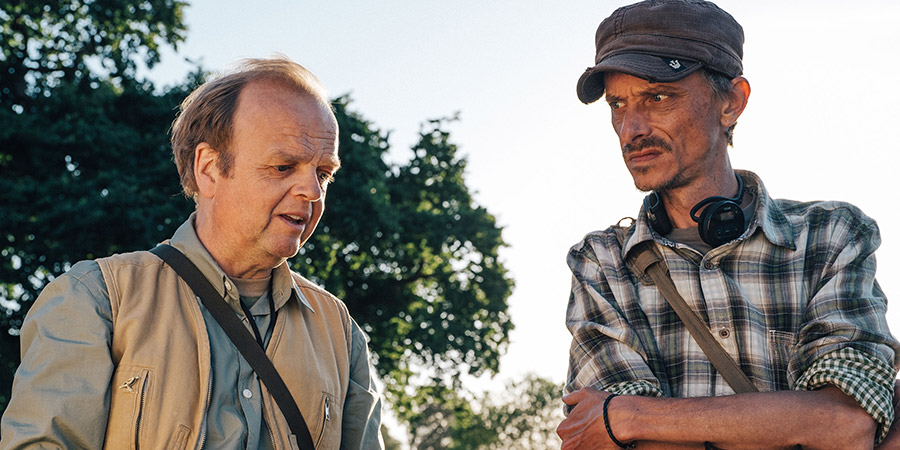 Detectorists duo Mackenzie Crook and Toby Jones are reuniting for the second series of Worzel Gummidge, British Comedy Guide can exclusively reveal.
Crook spoke of reviving Detectorists last year, telling Zoe Ball on her Radio 2 show in December: "I'm just starting the process of thinking 'yeah, we should get the old band back together'. One last time!"
However, for now, fans of the BBC metal detecting sitcom will have to content themselves with Jones' appearance in the Worzel reboot, though his role currently remains under wraps. Intriguingly though, Mariam Haque (Flowers, Pls Like) has also joined the cast of the BBC One family comedy drama playing Barbara Bower, nee Barbara Euphan Todd, who wrote the Worzel Gummidge novels between the 1930s and 1960s.
Shooting on an undisclosed number of new episodes wrapped last month in Hertfordshire and Bedfordshire, with the first to be screened at Christmas.
Thierry Wickens, who plays John in the show, was one of several cast and crew members posting a celebratory message on social media:
Alongside Crook, who endures three hours of prosthetic application to play the eponymous scarecrow, other confirmed returning cast members include India Brown, who portrays Susan, and Francesca Mills, who is Earthy Mangold.
Steve Pemberton and Rosie Cavaliero also co-starred in the reboot's first three episodes, with previous guest stars including Michael Palin, Vicki Pepperdine, Zoë Wanamaker, Lucy Montgomery, Shirley Henderson, Spencer Jones, Youssef Kerkour, Tom Meeten and Brian Blessed.
As BCG revealed in March, the new episodes were filmed over a ten-week period, with a week's break in the middle.
Speaking before the third episode, Saucy Nancy, aired on Christmas Eve 2020, writer, director and star Crook revealed that plans to record a fourth programme last year were scrapped because of coronavirus.
"The plan was originally to make two this year but we just didn't have the time," he told The Sun of the series, which is made by Leopard Pictures and Crook's own Treasure Trove Productions. "We were about to start pre-production when it closed down.
"During the first lockdown I was able to keep writing and keep preparing, so when we were finally able to make an episode we were ready to go."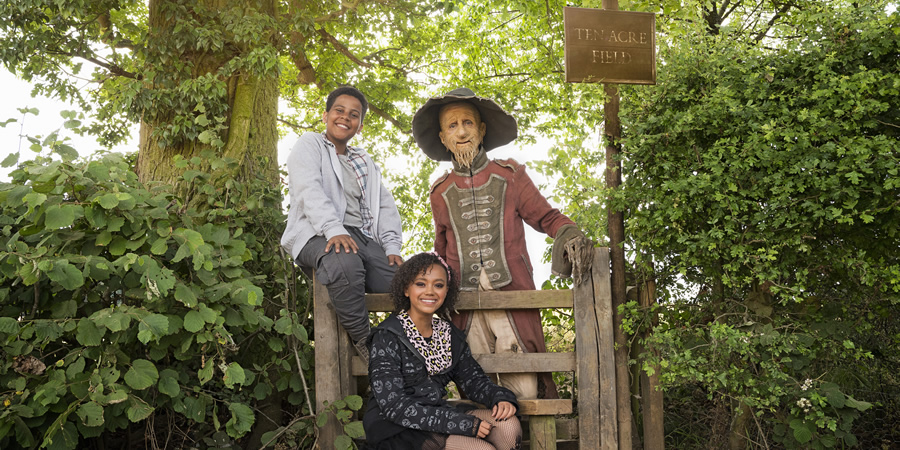 Una Stubbs, who starred alongside Jon Pertwee in ITV's hit version of the Worzel Gummidge stories, which ran for four series between 1979 and 1981, died last month.
With Pertwee as Worzel, she played Aunt Sally for the first three series, before Fawlty Towers star Connie Booth took over the role, which is played by Pepperdine in the current incarnation.
Jones, who revealed in May that his own BBC comedy, Don't Forget The Driver, had lost its previously commissioned second series because of coronavirus, is not short of work. He reprises his Marvel Cinematic Universe role as Nazi scientist Dr Arnim Zola in the alternative history Disney+ animated series What If...? and has an undisclosed role in the forthcoming fifth movie in the Indiana Jones franchise.
He also stars alongside Stephen Fry, Hugh Laurie, Miranda Hart and Imelda Staunton in an upcoming animated version of Oscar Wilde's The Canterville Ghost and appears in the star-studded adaptation of Matt Haig's festive story A Boy Called Christmas, alongside Maggie Smith, Stephen Merchant, Sally Hawkins, Jim Broadbent and Kristen Wiig.
He plays software executive Robert Stein in Stan & Ollie director Jon S. Baird's movie about addictive computer game, Tetris, and is part of Flowers' creator Will Sharpe's biopic The Electrical Life Of Louis Wain, which stars Benedict Cumberbatch as the titular artist, boasting a cast that includes Taika Waititi, Claire Foy, Jamie Demetriou, Sophia Di Martino, Julian Barratt, Asim Chaudhry and Sharon Rooney, with Olivia Colman narrating.
Currently appearing as 10,000-year-old druid Veran in the third series of Sky Atlantic's Roman Britain drama Britannia, Crook pops up as Andy the Detectorist, a direct reference to his Detectorists character Andy Stone, in computer game The Lake.
Although set in a small town in Oregon in the US, Crook voices his own character for his "Easter egg" appearance.
Wandering around Providence Oaks with his metal detector, players can stop him and chat to the close likeness of his Stone character. The game was released on the 1st of September but Crook's appearance was only revealed by the Games Revolution website this week.
---
For updates, click the buttons below.
Share this page