Chris & Rosie's BBC chat show
Chris and Rosie Ramsey land BBC chat show
Chris Ramsey and his wife Rosie are to host a BBC chat show
Following a pilot earlier this year, the pair are set for a full series
Chris told Lorraine Kelly: "All we're allowed to say is watch this space with a big, over the top pantomime wink"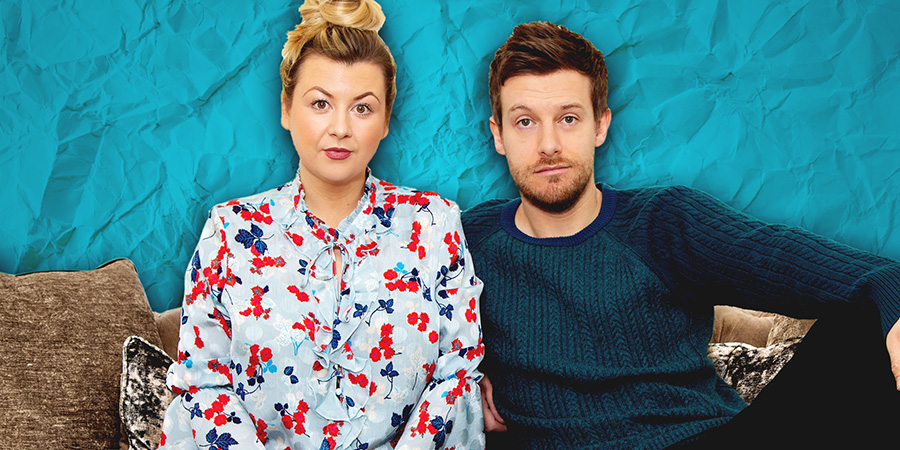 Chris and Rosie Ramsey have landed a late-night BBC chat show.
The married pair made a non-transmitted pilot, in which they interviewed another celebrity couple and sought to help small family businesses, this summer.
Now Chris has effectively confirmed a series has been ordered.
"We brought elements of our life to the show and yeah, the pilot was very cool, we really enjoyed it," he told Lorraine Kelly on her ITV daytime show.
"All we're allowed to say is watch this space with a big, over the top pantomime wink," he ostentatiously winked. "Watch this space."
Drawing from the pair's hit podcast, Sh**ged, Married, Annoyed, which has been downloaded 66 million times and begins a live UK arena tour on Sunday, the pilot also reproduced their podcast's 'What's Your Beef?' feature in which couples air their grievances about each other. This followed a request for fans to share whatever "gross or utterly annoying thing" their partner does, for possible inclusion on the show.
The pilot also put out a request for family firms or couples who work together in the Ramseys' native North East of England who might appreciate a helping hand from the South Shields comedian and his influencer wife.
Rosie took to Twitter to announce:
"RAMSEY'S FOR HIRE.... Sshh - Me and Chris have a secret filming project coming up - the Ramseys are for HIRE! No job too big or small: ramseysforhire@gmail.com"
Images of the pair filming in Newcastle city centre for the 30-minute taster, made by the comic's management company Avalon, appeared on social media in June.
Chris has become a familiar face on BBC primetime, performing on Strictly Come Dancing, hosting talent show Little Mix's The Search with the eponymous pop group, and guest presenting The One Show and Children In Need.
He also starred in the 2012 BBC Two sitcom Hebburn with Vic Reeves, Gina McKee, Kimberley Nixon and Lisa McGrillis, written by stand-up Jason Cook; and from 2017 hosted two series of his own entertainment and chat format, The Chris Ramsey Show, on Comedy Central.
Asked by The Mirror in June if he and his wife would like to be "the next Eamonn and Ruth, or Richard and Judy" celebrity presenting spouses, he replied: "You'd have to put us on after the watershed, that's all I'll say."
Sh**ged, Married, Annoyed recently claimed a world record after spending an entire year in the top 10 of the UK's charts, having previously spawned a Sunday Times Bestselling book.
The Sh**ged, Married, Annoyed Live Podcast Tour begins at the Edinburgh Playhouse on the 5th of September and includes arena dates in London, Newcastle, Birmingham, Manchester, Leeds, Liverpool, Nottingham, Glasgow, Aberdeen and Sheffield, plus the prestigious London Palladium.
A BBC spokesperson declined to comment on the series.
---
For updates, click the buttons below.
SH**GED
Saturday nights out on the tiles, undying crushes, dating like it's a competitive sport, awkward tales of dating woes, one-night stands, the walk of shame, ghosting, tears and break-ups.
MARRIED
Finding 'the one', meeting their parents, first holidays and romantic weekends away, engagement rings, big moment proposals, wedding bells, the hen do, the stag, the much anticipated - and feared - best man speech, the honeymoon of a lifetime.
ANNOYED
Who stacks a dishwasher like this? Empty milk cartons placed back into the fridge, pregnancy, sleepless nights, toilet seats up, toothpaste everywhere, less and less frequent date nights, DIY weekends, divorce.
One minute you're spending four hours getting glammed up for a Saturday night out on the tiles, dating like it is a competitive sport and doing the walk of shame and then you meet someone, possibly even The One. Life becomes filled with candlelit dinners, flowers, lazy Sundays spent in bed, matching underwear, meeting each other's parents, a fuzzy feeling in your tummy and making plans for a long and happy future.
Before you know it though, the honeymoon period has worn off and your conversations no longer revolve around care-free, spur of the moment weekends away and cosying up to watch a Netflix box set in bed. Instead you talk about the right way to load the dishwasher, mortgage rates, paint charts and whose turn it is to take the bins out. The beefs about your other half come thick and fast and you wonder if your wedding day is supposed to be the happiest of your life, is it all downhill from there?
Whether you're sh**ged, married, annoyed, or, all of the above, Chris and Rosie Ramsey, hosts of the number one podcast of the same name, write hilariously and with honesty about the universal highs and lows of life, dating, relationships, arguments, parenting and everything in between.
First published: Thursday 3rd September 2020
It looks like you're in the US? Fear not! Almost everything can still be ordered.
Amazon UK
deliver internationally,
Amazon.com
carries many items separately, or you can look out for US/Canadian flags on our product listings for direct links.
If ordering from a UK store, please note that you are in Region 1 (DVD)/Region A (Blu-ray), whilst the UK is in Region 2/B, respectively. This means that many - but by no means all - may fail to play. Look for products marked "Region free", "All regions", "Region 0" or "Multi-region". Blu-rays may also be marked "Region A/B/C", "Region free", or variations thereof. You may also check whether your DVD/Blu-ray player supports multi-region playback (also referred to as "region free"), or whether it can be set to do so. There should, of course, be no problems with books, CDs, or other physical items.
More advice & help on importing
Share this page