Code 404 Series 3
Code 404 set to return for Series 3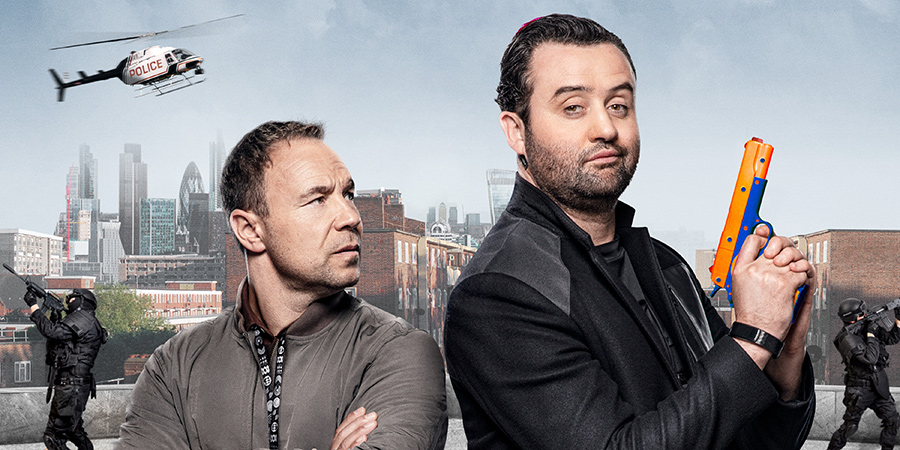 Work has begun on a third series of Code 404, as the second series launches today, British Comedy Guide can exclusively reveal.
Further episodes of the hit Sky Comedy cop sitcom, which stars Daniel Mays as a detective brought back to life as an AI experiment, and Stephen Graham as his long-suffering partner, have already been written BCG understands.
Scripted by Daniel Peak (Not Going Out) and co-starring Anna Maxwell Martin, Rosie Cavaliero, Amanda Payton and stand-up Richard Gadd, Code 404 is the latest comedy the broadcaster has demonstrated its faith in, following recent recommissions for Bloods, Brassic and Breeders.
With Meera Syal and Clive Russell joining the cast for Series 2, the latter playing DI John Major's absent father, Major (Mays) must bury his hurt at his impending divorce and begrudgingly reunite with DI Carver (Graham) to investigate a reopened 20-year-old cold case. Richard Ayoade also has a vocal cameo in the new series as a rival AI.
"It's a darker story, it's still laugh out loud funny" Mays told presenter and former stand-up Alex Zane on his Just The Facts podcast. "But it seems to be a lot more emotional actually, particularly the last three [episodes] where it goes. I love Code 404 because there's so many different elements to it. Fans of the first series are going to have an absolute ball with it second time round.
"To act it is relentless, a relentless six weeks work because [he and Graham] are pretty much in every scene. We always get halfway through it and go 'bloody hell, this is a killer isn't it? This is a comedy, it's meant to be easier!'.
"It's just a joy to play because it is physical, there's emotion in it, it's slapstick. I always describe it as a cross between Robocop and Some Mothers Do 'Ave 'Em. It's sort of a blend between those two shows."
Attracting a cumulative seven-day audience of 1.9 million viewers in April 2020 for the first series' opening episode, Code 404 was Sky's biggest comedy launch for eight years on its original channel, Sky One.
Reviews were broadly positive, with The Observer saying, that while it "didn't always hit the mark" in the first episode, "the energy and enthusiasm were infectious". The Telegraph called it "daft fun ... The joy is that in another universe this could have been a po-faced drama, and the three leads are sending themselves up."
Made by Kudos Productions (Two Weeks To Live, Flowers) and Water And Power Productions (The Phantom Of The Open), the first two series were directed by Al Campbell (Man Down, Cunk On...) and produced by Charlotte Surtees (Two Weeks To Live).
As BCG revealed last week, Mays is currently shooting festive film Your Christmas Or Mine? for Amazon Prime, the debut feature screenplay of Pappy's sketch member Tom Parry.
Here's a trailer for Code 404's second series, which starts on Sky Comedy at 10pm:
---
For updates, click the button below.
Share this page