The Curse filming
Tom Davis and PJDN team begin filming Channel 4 heist comedy The Curse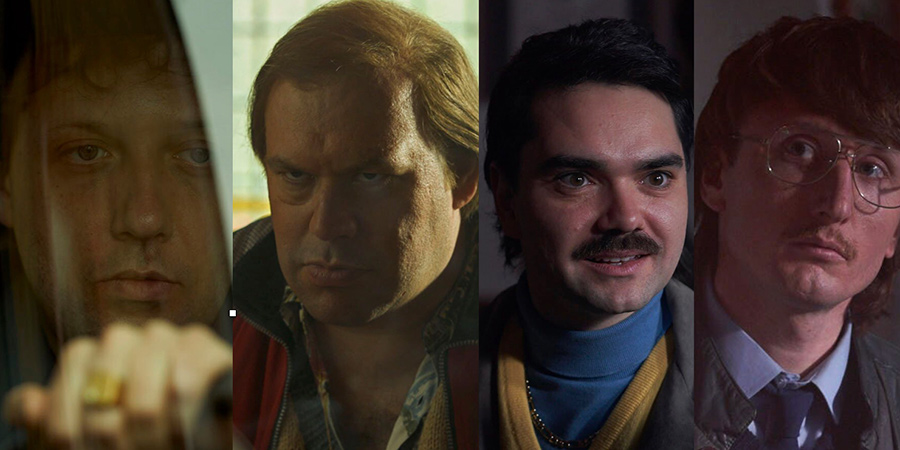 Filming begins next week on Channel 4's 1980s crime comedy The Curse, as British Comedy Guide can exclusively reveal the first image of the cast.
As first reported by BCG last year, the comedy-drama stars People Just Do Nothing's Steve Stamp, Allan Mustafa and Hugo Chegwin and King Gary star Tom Davis, who have written the script with director James De Frond.
Based on the 1983 Brink's Mat robbery, in which thieves stole £26 million of gold bullion, diamonds and cash from a warehouse at Heathrow International Trading Estate, The Curse follows a gang of six armed robbers who raid a depot near one of London's airports thinking they'd walk away with £50,000 in cash, only to stumble across 7000 bars of gold, with a street value of tens of millions.
Mustafa plays Albert Fantoni, Stamp is Sidney Wilson, Chegwin is Phil "The Captain" Pocket and Davis is Big Mick Neville, working-class men who dabble in low-level crime to make ends meet during the recession.
The naïve gang royally bit off more than they can chew with the heist and are stuck with the impossible task of trying to rid themselves of the loot before they get nicked or end up dead.
Produced by Richard Webb (King Gary), the supporting cast includes Emer Kenny (Pramface) as Natasha, wife of Albert, who narrates the tale.
Peter Ferdinando (The Mimic) plays Crazy Clive Cornell, a "proper" gangster the gang become involved with during the heist, Ambreen Razia (This Way Up) as Detective Thread, Geoff Bell (Cradle To Grave) as Detective Saunders and stand-up turned actor Michael Smiley (Spaced) as Ronnie Gatlin.
"Ever since first meeting Allan, Steve and Hugo myself and James have been buzzing to work with them" Davis said. "Channel 4 has such an incredible history in bringing working class stories to life, we're excited to add this tale to the mix."
Stamp added: "I've always wanted a mullet so really this is just an excuse to do that. But also an absolute privilege to work with such a talented group of people and to be making something with this level of scale and ambition. Really excited to start shooting."
Speaking to Romesh Ranganathan on his Hip Hop Saved My Life podcast earlier this month, he elaborated on how the Brink's Mat robbery had inspired them.
"We're doing a sort of comedy retelling of it" Stamp said. "But a lot of what did happen was kind of amazingly funny really. It was kind of by accident that they managed to steal the biggest shipment of gold that's ever happened.
"It was these low-level gangsters struggling to deal with all this gold that they had, not knowing how to make deals and what they're supposed to be doing basically.
"There's a true story about them going to Columbia and having a meeting with [Pablo] Escobar in exchange for coke. And then they realise they have no way of getting it back. That's the kind of levels we're dealing with, it sort of writes itself. We've been having a lot of fun with these characters."
The Curse also has an 80s-inspired soundtrack he enthused.
Executive produced by De Frond, Davis, Mustafa, Stamp and Chegwin, The Curse was commissioned for Channel 4 by Fiona McDermott, head of comedy and Jack Bayles, commissioning editor for comedy.
"It's been such a treat to see these mega comedy talents collide with The Curse" McDermott said. "As gripping as it is daft, we're thrilled to have such an ambitiously funny show from these brilliant creatives coming to Channel 4."
The series is produced by Davis and De Frond's production company Shiny Button, who yesterday BCG revealed are making the festive film Your Christmas Or Mine? for Amazon Prime, written by Tom Parry and starring Daniel Mays and Angela Griffin.
The People Just Do Nothing team, whose film Big In Japan is currently in cinemas, are also making the gym-based series Peacock for BBC Three, BCG revealed last week, starring Mustafa in the title role and written by Stamp with Ben Murray.
The Curse's commission comes as the BBC has ordered a drama about the Brink's Mat robbery, written by Bob Servant creator Neil Forsyth, whose other credits include Eric, Ernie and Me and Guilt. Six-part series The Gold is a co-production between Forsyth's Tannadice Pictures, a partner of Objective Fiction (Feel Good, Gameface), and VIS, a division of ViacomCBS, for BBC One.
---
For updates, click the button below.
Share this page