Gaynor & Ray
Ruth Jones and Rob Brydon star in Comedy Playhouse pilot Gaynor & Ray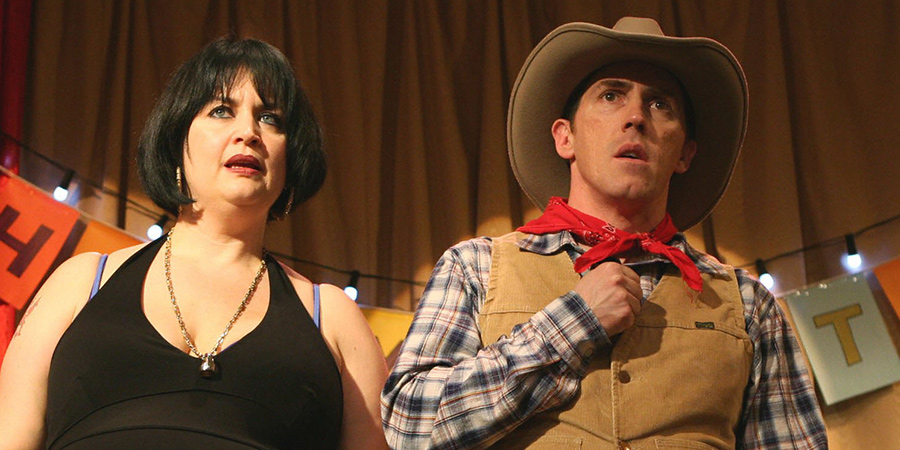 BBC One has confirmed the details of Gaynor & Ray, a Comedy Playhouse pilot featuring Gavin & Stacey stars Ruth Jones and Rob Brydon.
The BBC confirms: "Created and written by Ruth Jones and David Peet and made by Tidy Productions, Gaynor & Ray features the exciting reunion of two BBC favourites and real-life friends, Ruth Jones and Rob Brydon in the title roles and is the latest Comedy Playhouse to be commissioned for broadcast on BBC One and BBC iPlayer."
Filmed in the Scottish Highlands and South Wales, the pilot was first revealed by British Comedy Guide in June.
The plot is described as follows: "Meet Gaynor and Ray Davies from Cardiff - two fifty-something newlyweds, both married for a second time. Gaynor's first marriage ended when she discovered her husband was unfaithful (multiple times); Ray's first marriage ended because he was 'impossible to live with' (or so his ex-wife never tires of telling him). But now they're both trying again.
"In this 35 minute special we join Ray and Gaynor on their honeymoon to the Scottish Highlands where they meet a variety of characters and situations. And having only met six months ago, there are many things - not all of them endearing - that this couple keeps discovering about each other, often begging the question have they done the right thing?"
A teaser picture has been released by the BBC showing the characters sitting on a bench, but it does not reveal the actors' faces: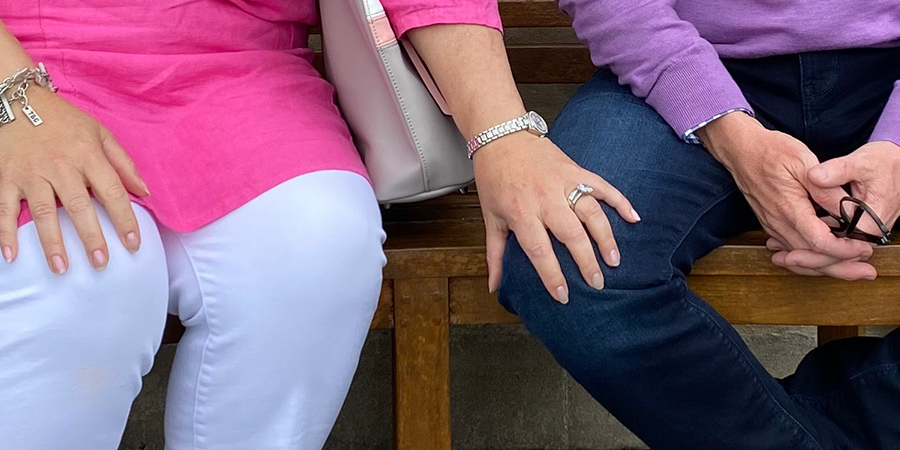 Writer-creators David Peet and Ruth Jones say: "We're delighted to watch Gaynor & Ray come to life on screen. Through them we get to see the male and female take on life and relationships as well as the nonsense in the day-to-day."
The pilot's director is Sandy Johnson, who worked with Jones on her Sky One comedy Stella and with Brydon on the Australian-set BBC Two sitcom Supernova. As an actor, the Glaswegian helmer previously shot in the Highlands as one of the Knights of Ni for the 1975 film Monty Python And The Holy Grail.
A self-declared "Scotlandophile", Jones has described the remote Inverkirkaig in the Highlands as her favourite place in the British Isles. She and Peet, who are married, divide their time between Wales and Lochinver, where they own Peet's Restaurant and she has been known to wait the tables.
Jones and Brydon were schoolmates at Porthcawl Comprehensive School and the Royal Welsh College of Music & Drama in Cardiff and appeared in amateur musical productions such as Guys And Dolls and West Side Story together.
Jones was about to quit acting to become a solicitor before Brydon got her a television break, recruiting her for a BBC Wales sketch show that also featured himself, Steve Speirs and Wayne Forrester, but which was never broadcast. In 1992, the pair joined an improv group in Bath, where they met Julia Davis, whom they would go on to collaborate with in the dark BBC sitcoms Human Remains and Nighty Night.
As Nessa Jenkins and (Uncle) Bryn West (pictured, top), Jones and Brydon performed a duet of Islands In The Stream in the second series of Gavin & Stacey, which they reprised the following year in 2009 for Comic Relief as Barry Islands in the Stream. Also featuring Tom Jones [no relation], it reached number one in the UK singles chart.
Talking about Gaynor & Ray, commissioning editor Gregor Sharp says: "Ruth and David's portrait of the ups and downs of a new relationship is full of warmth, wit and wisdom and is brilliantly performed by the laugh out loud combination of Ruth and Rob, a match made in comedy heaven. We can't wait for everyone to see it."
Further casting and broadcast details are set to be announced in due course.
---
For updates, click the buttons below.
Share this page