Bloods Series 2
Bloods gets a second series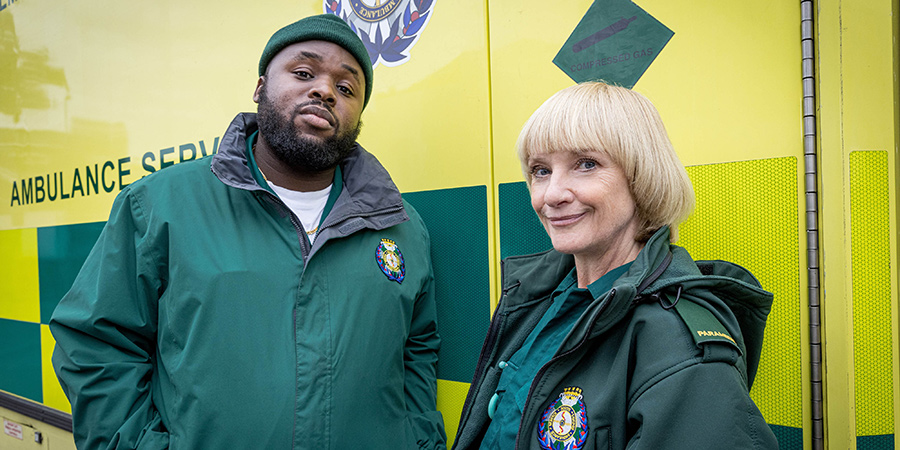 Bloods is returning to Sky for a second series, British Comedy Guide can exclusively reveal.
Six more 30-minute episodes of the paramedic sitcom have been ordered, with production resuming in London this month.
Created by and starring Samson Kayo, with Jane Horrocks, and a supporting cast that included Julian Barratt, Lucy Punch, Adrian Scarborough, Aasiya Shah, Sam Campbell and Kevin Garry, Bloods was written by Kayo's co-creator Nathan Bryon and Paul Doolan, airing on Sky One in May and June.
With the closure of Sky One in September, the second series is expected to air on the refreshed Sky Comedy channel.
Focusing on the partnering of swaggering but insecure Maleek (Kayo) with over-friendly northern divorcee Wendy (Horrocks) as they attend a never-ending succession of 999 calls, the first series ended with the mismatched ambulance crew reconciling after delivering a baby.
Produced by Roughcut (People Just Do Nothing, Stath Lets Flats), Bloods began with 889,000 overnight viewers but that figure had dropped to 140,000 by the final episode.
Critics gave it a mixed response, with the Independent hailing it as "a magnificent paramedic comedy full of gallows humour", the Observer deciding that "it somehow works as a comedy, if of the sweeter rather than distinctly darker kind" and The Guardian felt it had "a charm and warmth that, with a bit of a punch-up to the script, could turn it into something well worth a weekly 22 minutes of your time".
---
For updates, click the button below.
Share this page