Three Lions on The Last Leg
Baddiel, Skinner & The Lightning Seeds to reunite on The Last Leg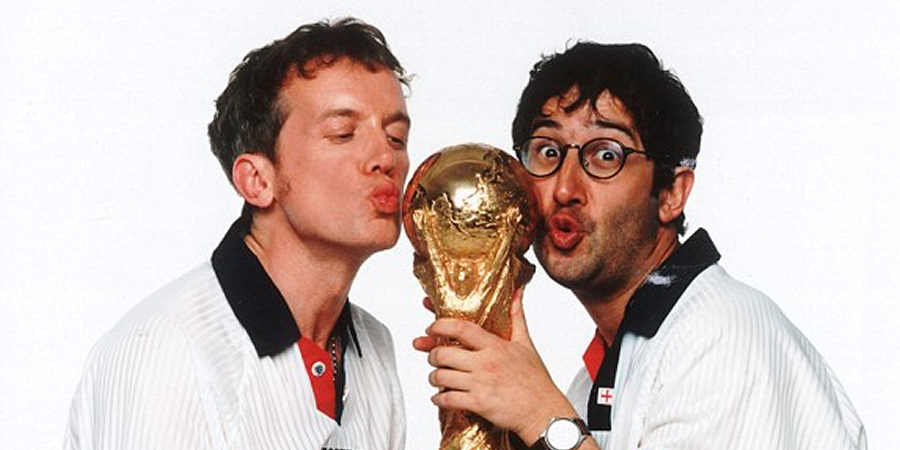 Three Lions stars David Baddiel, Frank Skinner and The Lightning Seeds are to reunite on a special episode of The Last Leg tonight (9th July 2021).
The 90 minute special of the topical comedy show, titled Last Leg of the Euros with Baddiel and Skinner, will be broadcast on Channel 4 from 10pm.
The channel confirms: "Adam Hills, Josh Widdicombe and Alex Brooker will be joined live in the studio by none other than the Three Lions comedic heroes David Baddiel, Frank Skinner and legendary band The Lightning Seeds as they count down to the must see event of the year - the England v Italy Euro 2020 final.
"With our enduring love affair for unofficial national anthem, Three Lions, at an all-time high, the team will celebrate its 25th anniversary and ask whether Baddiel, Skinner & The Lightning Seeds might need to pen a new song come Monday morning..."
The producers hint the show might "quite possibly" end with "a monumental end of the show musical performance."
Three Lions, also referred to as "It's Coming Home" or "Football's Coming Home", was first released by the comedians and Lightning Seeds front man Ian Broudie for Euro 96. They made a new version for the 1998 World Cup, and another in 2010.
The Last Leg, which is broadcast live, will also feature Tom Allen and Baroness Sayeeda Warsi. The producers say "surprise guests will also join the gang for an epic night of footballing fun, acerbic wit, unmatched satirical insight - and quite possibly, a monumental end of the show musical performance."
Here's the original song:
---
For updates, click the button below.
Share this page