Chris Rosie Ramsey Show BBC
Chris & Rosie Ramsey pilot BBC show helping family businesses
Chris and Rosie Ramsey are currently filming a TV pilot for the BBC
The comedy format sees the married couple helping small firms
The Ramseys' hit marriage-and-parenting podcast Sh**ged, Married, Annoyed will tour the UK later this year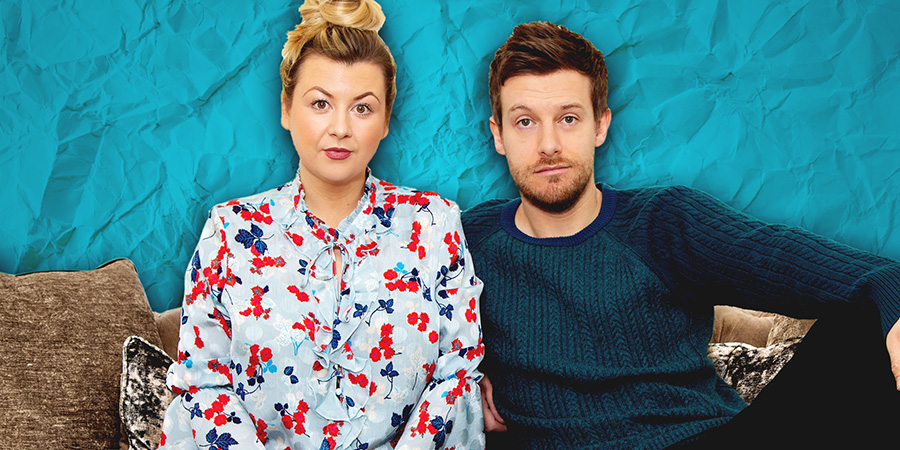 Chris and Rosie Ramsey are piloting a BBC comedy show in which they help small businesses, British Comedy Guide can exclusively reveal.
Production is underway on The Chris & Rosie Ramsey Show, with the married pair finding family firms or couples who work together in their native North East of England who might appreciate a helping hand from the South Shields comedian and his influencer wife.
Images of the pair filming in Newcastle city centre for the 30-minute non-transmission pilot, made by the comic's management company Avalon, appeared on social media today:
And last week, Rosie took to Twitter to announce:
"RAMSEY'S FOR HIRE.... Sshh - Me and Chris have a secret filming project coming up - the Ramseys are for HIRE! No job too big or small: ramseysforhire@gmail.com"
The couple, whose podcast about their family life Sh**ged, Married, Annoyed has been downloaded 66 million times, recently helped out Dock & Bay beachwear, though in the cause of promoting Amazon Prime Day, visiting one of the online retailer's warehouses to help pack and deliver orders.
Amazon, which released Ramsey's 2019 stand-up special Approval Needed on Prime, has seen sales soar during lockdown, but it has been criticised for its monopolistic control of the Marketplace section of its site for third party sellers, as well as paying less tax than bricks-and-mortar retailers and poor treatment of its delivery and warehouse workers.
Ramsey has become a familiar face on BBC primetime, performing on Strictly Come Dancing, hosting talent show Little Mix's The Search with the eponymous pop group, and guest presenting The One Show and Children In Need.
He also starred in the 2012 BBC Two sitcom Hebburn with Vic Reeves, Gina McKee, Kimberley Nixon and Lisa McGrillis, written by stand-up Jason Cook; and from 2017 hosted two series of his own entertainment and chat format, The Chris Ramsey Show, on Comedy Central.
Asked by The Mirror last week if he and his wife would like to be "the next Eamonn and Ruth, or Richard and Judy" celebrity presenting spouses, he replied: "You'd have to put us on after the watershed, that's all I'll say."
The Sh**ged, Married, Annoyed Live Podcast Tour begins at the Edinburgh Playhouse on the 5th of September and includes arena dates in London, Newcastle, Birmingham, Manchester, Leeds, Liverpool, Nottingham, Glasgow, Aberdeen and Sheffield.
A BBC spokesperson declined to comment on the pilot.
---
For updates, click the buttons below.
Share this page