Sue Johnston to star in new BBC Christmas comedy
Sue Johnston to star in new BBC Christmas comedy
---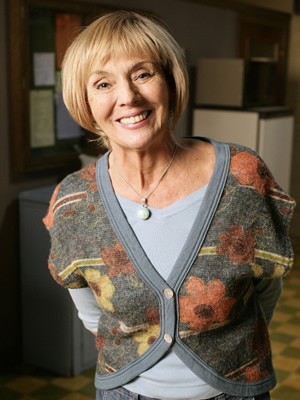 The BBC have announced today that filming has begun on 'a big, heartwarming' comedy drama for Christmas starring The Royle Family and Jam & Jerusalem actress Sue Johnston.
Lapland is a 90 minute one-off comedy drama for BBC One, which has been created by Michael Wynne, a writer whose previous credits include EastEnders and the 2010 Olivier Award-winning stage play The Priory.
Sue Johnston will play Eileen Lewis, the mother of a chaotic, large close knit family from Birkenhead. The family save all year round to make Christmas as special as possible but this year is different, they've decided to go to Lapland on a package tour to see Father Christmas Finnish style - complete with huskies, reindeer and maybe the magical northern lights. But they soon discover Lapland brings more than they bargained for.
The ensemble cast also includes Stephen Graham (This Is England), Elizabeth Berrington (Psychoville), William Ash (Waterloo Road), Julie Graham (William & Mary), Zawe Ashton (Fresh Meat) and Keith Barron (Benidorm).
Sue Johnston says: "Lapland won't know what's hit it when the Lewis family arrive, it's a hopeful, bittersweet comedy and I'm delighted to be a part of it."
BBC Comedy boss Mark Freeland added: "I am delighted that we are bringing a little bit of Lapland magic to BBC One this Christmas with Michael Wynne's comedy special. You can take the family out of Birkenhead, but you can't take Birkenhead out of the family."
Producer Rosemary McGowan said: "Michael Wynne has skilfully brought to life one ordinary family's chaotic experience of Christmas in a way that will have people all over the country chuckling in recognition. Funny, warm but also moving."
Lapland, which is filming now in the UK and on location in Finland, will be shown this Christmas on BBC One.
Share this page