Home axed by Channel 4
Home axed by Channel 4
Channel 4 has turned down a third series of Rufus Jones's Home
The sitcom, about a Syrian asylum seeker living with a middle class family in Dorking, ran for two series
Jones says: "It's rare you get to write a hero's quest in such literal terms"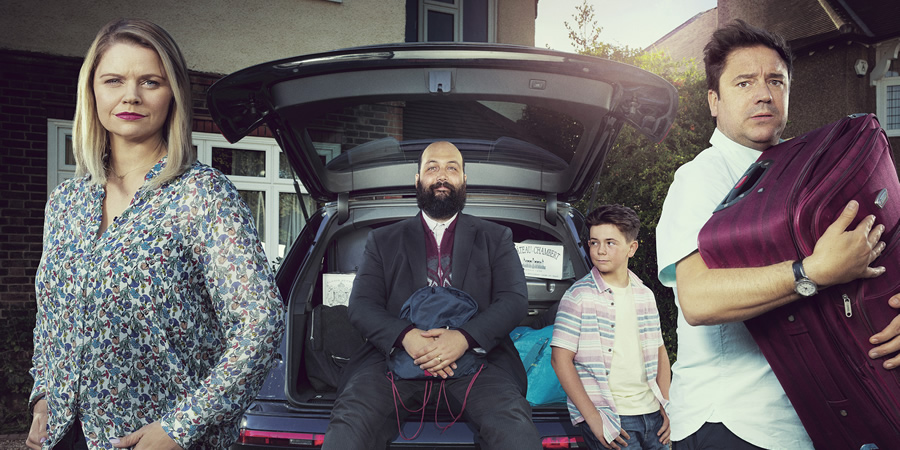 Home will not be returning to Channel 4 for a third series.
Rufus Jones, the creator, writer and co-star of the comedy series, announced on Twitter this evening that the network has opted not to order any further episodes of the critically acclaimed sitcom.
He said: "Sadly we will not be having a third series of Home on Ch4. It's rare you get to write a hero's quest in such literal terms. I'll never have a greater privilege than writing for @YoussefKerkour, Rebekah Staton, @OakleeP, @_AaronNeil and everyone else. Sami. Habibi. Yalla."
Piloted in 2017 as an online Comedy Blap, Home - made by Channel X and Jantaculum - returned for two series, in 2019 and 2020 respectively.
Set in Surrey, it follows a middle class family as they return home from a driving holiday in France to discover an Syrian asylum seeker, Sami, has smuggled himself in their car boot.
Youssef Kerkour led the cast as Sami, with Rufus Jones as uptight, conservative-minded construction surveyor Peter; Rebekah Staton as his partner, secondary school teacher Katy; Oaklee Pendergast as her son, John, from a previous marriage; and Aaron Neil as local shopkeeper Raj.
Over the course of the twelve television episodes, Sami was seen challenging the family's attitudes to life, each other, and immigrants to Britain, as he attempted to secure his safety and make contact with his own wife and son, from whom he had become separated en route from their war-torn homeland. Other issues addressed by the sitcom include marital breakdown, step-parenting, relationship trauma, and the bureaucracy of asylum and immigration systems in Britain.
12th May update: Rufus Jones says a revival is possible via a streaming platform. "There is a conversation to be had". Update article from Radio Times
---
For updates, click the buttons below.
The summer holidays are over. Peter and Katy, and Katy's son John, are driving back to Britain. But when the family arrive home in (not so exciting) Dorking, Peter discovers a surprise package stashed in the car boot. And we're not talking duty free. Peter finds Sami, a Syrian refugee.
At first, Peter turns Sami away. But gradually the family welcomes Sami into their lives. They help him find his wife and child, who've set up home in Germany. Can Sami and his adopted family convince Sami's loved ones to live in Britain?
Thoughtful and surprising, Home explores the fragile forces that pull families apart, and bind them back together again.
First released: Monday 15th April 2019
Distributor: 2 Entertain
Region: 2 & 4
Discs: 1
Minutes: 138
Subtitles: English
Buy and sell old and new items
Search for this product on eBay
It looks like you're in the US? Fear not! Almost everything can still be ordered.
Amazon UK
deliver internationally,
Amazon.com
carries many items separately, or you can look out for US/Canadian flags on our product listings for direct links.
If ordering from a UK store, please note that you are in Region 1 (DVD)/Region A (Blu-ray), whilst the UK is in Region 2/B, respectively. This means that many - but by no means all - may fail to play. Look for products marked "Region free", "All regions", "Region 0" or "Multi-region". Blu-rays may also be marked "Region A/B/C", "Region free", or variations thereof. You may also check whether your DVD/Blu-ray player supports multi-region playback (also referred to as "region free"), or whether it can be set to do so. There should, of course, be no problems with books, CDs, or other physical items.
More advice & help on importing
Share this page