Growing Pains Series 2
Rhod Gilbert's Growing Pains gets second series
Rhod Gilbert will host another series of his chat format Growing Pains
The Comedy Central programme focuses upon his guests' embarrassing teenage stories
Series 2 will consist of double the number of episodes of the first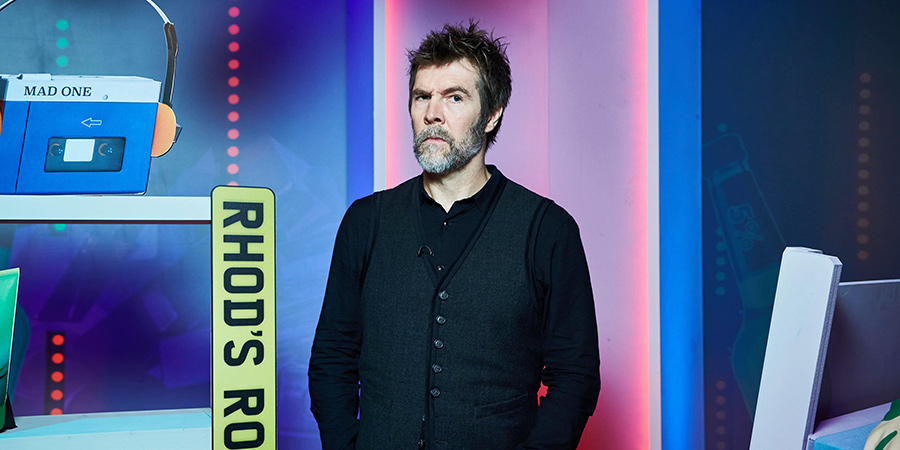 Rhod Gilbert's Growing Pains is returning for a second series with twice as many episodes, British Comedy Guide can exclusively reveal.
Production is under way on 12 further instalments of the Comedy Central chat-cum-panel show, in which Gilbert judges guest comedians and celebrities on their embarrassing teenage memories.
"I can't wait to stick on some industrial strength rubber gloves and rifle through the teenage lives of more brilliant guests, to find out what they were like when they were just streaks of adolescent urine" he said.
Participants in the second series, airing later this year, have yet to be disclosed. Previous guests joining Rhod Gilbert have included Bill Bailey, David Baddiel, Kiri Pritchard-McLean, Tom Allen, Sally Phillips, Joel Dommett, Roisin Conaty and Darren Harriott.
Made by Rumpus Media (Joe Lycett's Got Your Back, The Misadventures Of Romesh Ranganathan), the initial run of six episodes aired in January and February of this year, opening with 262,000 viewers and averaging more than 200,000 throughout its run, with 227,000 watching the final episode.
Growing Pains is the latest quick recommission from Comedy Central, following Guessable, as revealed by BCG in March, and Channel Hopping With Jon Richardson, also announced today.
Growing Pains and Channel Hopping were recommissioned by Sebastian Cardwell, deputy director of programmes for Viacom CBS UK and Dan Louw, VP Commissioning Editor, ViacomCBS Networks UK. They are executive produced by Rumpus's joint managing director Iain Wimbush.
"I am delighted to be working with Rumpus again and bringing back these shows to Comedy Central" Cardwell said.
"The first series of both shows were a big hit with our audience, and I can't wait for Rhod to uncover even more embarrassing celebrity teen stories, and for Jon to reveal some of the world's most outrageous and hilarious programmes on TV."
Wimbush added: "I can't wait to re-visit the youth of some of our much-loved celebrity guests, and hear Rhod's inimitable take on their questionable choices. This is a pure tonic, full of nostalgia and feel good moments."
Gilbert, who was born in Carmarthen, shot the film Save The Cinema there in January. Based on the true story of Liz Evans, a hairdresser and youth theatre leader who began a campaign in 1993 to save the local Lyric Theatre from closure, enlisting the help of Steven Spielberg for a special premiere of Jurassic Park, the film stars Samantha Morton as Evans and also features Jonathan Pryce, Tom Felton, Adeel Akhtar, Susan Wokoma, Colm Meaney and Keith Allen.
Directed by Sara Sugarman (Mad Cows, Very Annie Mary) and written by Piers Ashworth (Fisherman's Friends) and Lorraine King, Save The Cinema is expected to be released later this year.
---
For updates, click the button below.
Share this page
Comedy Central has since opted to break the 12 episodes into two separate six-part series.