Mike Bubbins PE teacher sitcom
BBC pilots PE teacher sitcom from Mike Bubbins
Mammoth - a new sitcom pilot from BBC Wales - focuses on a 1970s PE teacher brought back from the dead
Written by and starring Mike Bubbins, the comedy sees throwback Tony Mammoth resuming his job in 2021
Bubbins says: "It has a brilliant, talented cast and crew"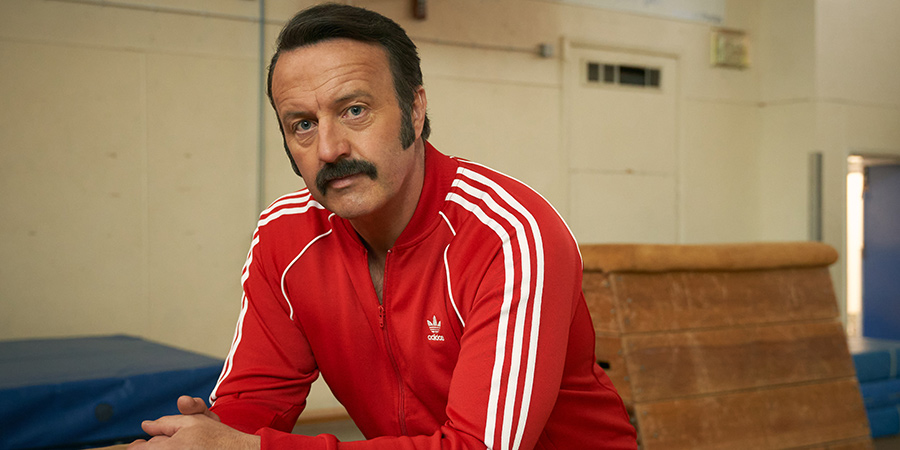 Mike Bubbins is piloting a BBC sitcom about a swaggeringly macho 1970s PE teacher, British Comedy Guide can exclusively reveal.
The comic, a former PE teacher himself, wrote and plays the title character in Mammoth for BBC Wales, which co-stars The Fresh Prince Of Bel-Air's Joseph Marcell.
The 30-minute pilot tells the story of PE teacher Tony Mammoth, who is presumed to have been killed in an avalanche on a school trip in 1979. When his body is later discovered, he is miraculously brought back to life to resume his teaching position in the present day.
A BBC Studios production, Mammoth also features Jan Anderson (Curb Your Enthusiasm) and Mali Ann Rees, both of whom starred alongside Bubbins in BBC Wales mockumentary Tourist Trap. Adam Miller (The Windsors, Zomboat!) directs. The producer is Luke Mason (Thick As...).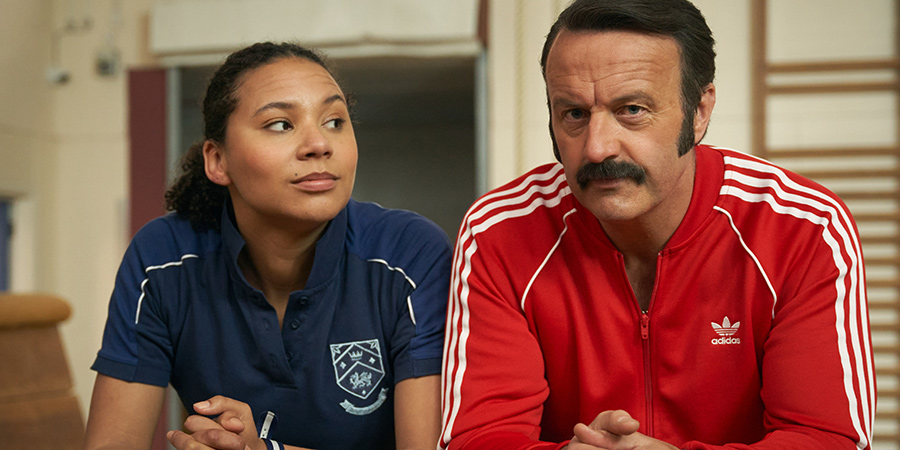 "I tried to make Mammoth a comedy full of heart, positivity and optimism" said Bubbins. "It has a brilliant, talented cast and crew, and BBC Wales couldn't have been more supportive throughout the whole process.
"I still can't quite believe it's happening. I didn't think when I resigned as a PE teacher and drove out of the school gates, to try to make a career of comedy, that one day, just fifteen short years later, I'd be driving back in through those same gates to record my own BBC sitcom."
The "retrosexual" stand-up, who starred as tourism corporate director Wyn in Tourist Trap and with John Rutledge (aka Eggsy of hip hop group Goldie Lookin Chain) in spoof paranormal investigation show The Unexplainers on BBC television and radio, has shared photos of himself in costume on social media over the last fortnight:
A former professional rugby player and Elvis impersonator, Bubbins worked as a teacher until 2010 and has been developing Mammoth for four years, with filming delayed from 2020 because of coronavirus.
He also disclosed the character's real-life inspiration last year from his days as a pupil at Barry Comprehensive for boys in the 1970s.
"We used to have a PE teacher in school I absolutely worshipped," he explained on The Socially Distant Sports Bar podcast that he co-hosts with fellow comic Elis James and former BBC Wales sports presenter Steff Garrero. "He looked like Tom Selleck in his Magnum days, we all used to call him Magnum and he just used to crack us up.
"It was the biggest all boys comp in the country, 1800 boys, in Barry, which is fairly tough. I can just remember him in the summer term, he was a good looking bastard, black hair, black moustache, and he used to have these blue and white striped Speedos right?
"And in the summer term ... if he was ever on dinner duty, he'd be sat on his deckchair in his Speedos with a pair of Ray-Ban Aviators on, just sunbathing. And there could be fights going on left, right and centre ... 'Sir, sir, sir, SIR, SIR, SIR, SIR!'...
"Finger to his lips, 'Shhh ...' That was sunbathing time, that was Tony time."
Last week The Socially Distant Sports Bar announced seven live recording dates, visiting London, Salford, Cardiff, Newcastle, Edinburgh and Birmingham between September and November.
Mammoth is one of several comedies announced today by BBC Wales, including pilots of a television adaptation of radio sitcom Bravo Two Charlies; Beena And Amrit starring Meera Syal; and Porth Purgatory from writer-actor Garyn Williams and Twin Town director Kevin Allen. Full details
---
For updates, click the button below.
Share this page