The Mash Report on Dave
The Mash Report may move to Dave
The Mash Report, which was axed by BBC Two, may move to channel Dave
Trade magazine Broadcast reports that the Freeview channel is considering taking on the format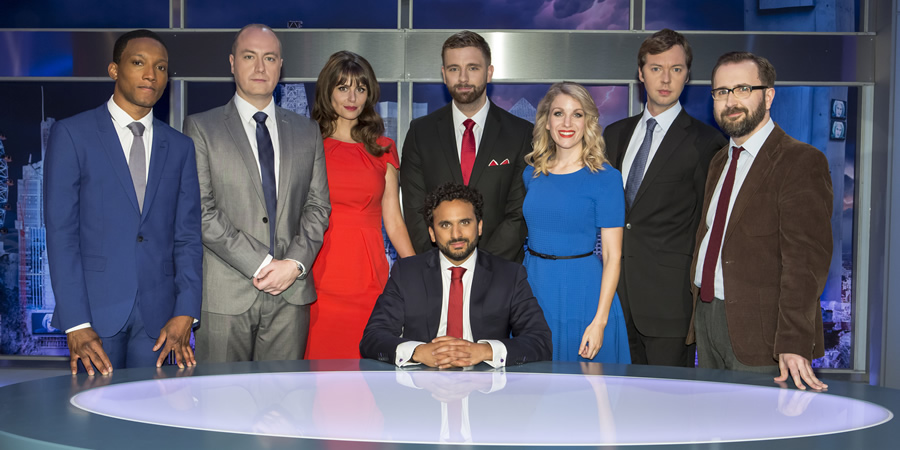 UKTV channel Dave is reportedly considering taking on The Mash Report.
It was revealed last week that the topical comedy show has been axed by the BBC after four series.
A spokesperson said "in order to make room for new comedy shows we sometimes have to make difficult decisions", however many believed the move to be politically motivated after The Sun newspaper suggested that the format had been axed because it was too "left wing" to fit with new BBC director-general Tim Davie's desire for more political balance across the corporation's channels, whilst others pointed out its relatively low viewing figures.
Industry publication Broadcast is now reporting that The Mash Report could be swiftly revived by Dave, which is owned by the BBC's commercial arm.
An unnamed executive told the trade magazine that the format is highly-regarded by the broadcaster, adding: "Dave considers it to be a good brand that features some great talent which [sic] would help it to drive diversity."
Referring the production company that makes the show, they added: "Zeppotron has used it as a platform to raise the profile of lots of new voices over the years."
Another source said: "As Dave tries to be less male-dominated and broaden its audience demographic, The Mash Report would be excellent for its diversity. Plus it is very funny."
Hosted by Nish Kumar, The Mash Report featured a regular team of contributors including Rachel Parris, Ellie Taylor, Steve N Allen, Andrew Hunter Murray, Geoff Norcott, Tom Bell, Jason Forbes, Greig Johnson, Freya Parker, Pierre Novellie and Michael Spicer.
Dave, part of the UKTV network, airs a growing number of original studio-based comedies, including Hypothetical, Mel Giedroyc: Unforgivable and Comedians Giving Lectures. Its chat show format Alan Davies: As Yet Untitled is also due to return after a break.
Between 2016 and 2018 Dave broadcast four series of the politics-focused topical comedy show Unspun With Matt Forde. However, Broadcast speculates that if The Mash Report is resurrected by the channel, its topical tone would need to be "watered down and its subject matter broadened to fit with Dave's strategy of repeating shows frequently over a long period of time".
The UKTV network is a wholly-owned subsidiary of BBC Studios, the corporation's commercial body.
---
For updates, click the button below.
Share this page